At the 27th Session of Conference of Parties of the UNFCCC (COP 27) in Sharm El-Sheikh, Egypt, the India Pavilion hosted a side event on "Transformative Green Education: Experiences from India", today. This side event involved deliberations by officials and experts from the National Museum of Natural History (NMNH), Ministry of Environment, Forest and Climate Change and Deutsche Gesellschaft für Internationale Zusammenarbeit (GIZ) GmbH highlighting the need to encourage a sustainable lifestyle for the environment among children through innovative techniques, tools and methods.
Shri Bhupender Yadav, Minister of Environment, Forest and Climate Change, Government of India gave the keynote address and released a book (both print and digital versions), calendar, postcards, bookmarks, and posters based on paintings by Indian schoolchildren on sustainable lifestyles, collected by the NMNH. On this occasion the Minister also released a short video on green transformative education. Experiences from India were also shared in the panel discussion. Addressing the gathering at India Pavilion, Egypt and children who joined virtually from India, the minister congratulated all the children who actively contributed to this campaign and said:
"We have not inherited this earth from our ancestors but we have borrowed it from our children. It is a loan we have got from them and it is our responsibility to lead a sustainable life so that our children have a safe place to live".
About the Campaign:
To inculcate the environment friendly lifestyle among the school children, National Museum of Natural History organized a National Level Painting Competition for the school students of class 6th to 8th on the theme – "LiFESTYLE FOR ENVIRONMENT" through colours.
Over 16000 entries were received from the children from 24 states of the country. The entries presented a broad perspective of the children on the environment and their thoughts on how they would love to see their environment in the years to come. The wealth of paintings thus collected will be utilised in calendars, posts card, bookmarks, books and videos in collaboration with GIZ India. The selected paintings of this competition were displayed at the COP27 Side Event at the India Pavilion.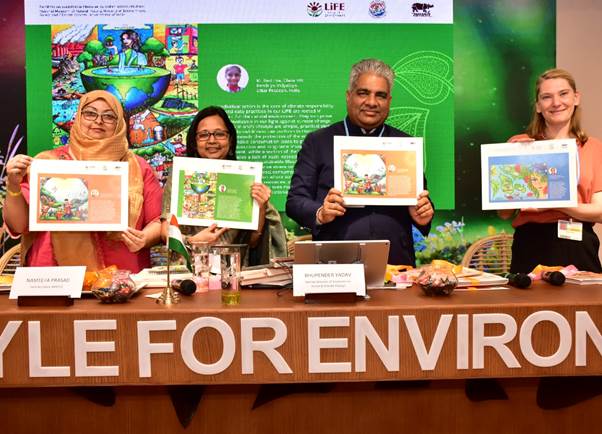 For thematic focus and relevance NMNH and GIZ India have planned activities to facilitate experiential learning for school children on themes covering Lifestyle for Environment and Climate Change, which contributes towards India's NDC Goal 1. The activities include innovative permanent exhibits, climate change learning labs, outreach events and awareness programs. These are intended to enable school students to relate to the impacts of climate change on their lives, help them understand the science behind climate change, and find pragmatic solutions, especially nudging them to adopt climate-friendly lifestyles. For more information on this click here.
Speaking on this occasion, Shri Bhupender Yadav said:
"Mission LiFE is a collective, conscious global movement that is human-centric and is aligned with the local culture and tradition will have a huge positive impact on the ongoing efforts on fighting climate change. Within such a community led environmental movement, children play a crucial role in our efforts towards combating climate change. Nurturing a sensitivity towards environment in young minds is the need of the hour to ensure their persistent involvement in environmental protection, as well as meaningful actions.
As a country with one of the youngest populations in the world, school children in India will act as proponents of sustainable habits within their families and communities. I also would like to highlight that the National Education Policy of India, released in 2020 emphasises on
education to be experiential, holistic, integrated, inquiry-driven, discovery-oriented, learner-centred, and discussion-based. Developing a robust and healthy environmental consciousness is part of the core theme of the education policy today.
We look forward to more collaborations from children across the country and globe on leading a sustainable lifestyle – a lifestyle that is conscious about generation of unwanted waste, consuming resources in the right quantity, conserving the precious resources of nature; and living in harmony with nature."
For full text of the Minister's speech click here.