"A country's ability and potential for growth is determined by the size and strength of its youth population. Youth can be a dominant force for development when provided with the knowledge and opportunities they need to thrive". This was stated by Dr Mansukh Mandaviya, Union Minister of Health and Family Welfare during his inaugural address at the 'Health of Youth – Wealth of Nation', a G20 co-branded event organized by the Union Ministry of Health and Family Welfare, in collaboration with the Partnership for Maternal, Newborn, Child Health (PMNCH), here today. This global gathering aims to highlight the health and well-being needs of 1.8 billion adolescents and youth worldwide, and foster increased attention and investment by G20 nations in the health of adolescents and youth.
Dr. Bharati Pravin Pawar, Minister of State for Health and Family Welfare, Mr. Sibongiseni Dhlomo, Deputy Health Minister of South Africa, Ms. Helen Clark, PMNCH Board Chair, Mr Shombi Sharp, UN Resident Coordinator (India), Dr. Julitta Onabanjo, Director of Technical Division, UNFPA Headquarter and were also present on the occasion.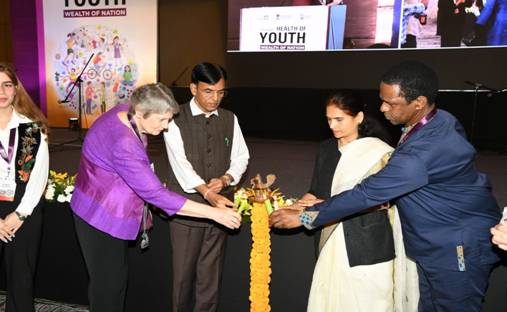 Addressing the gathering, Dr. Mandaviya said that "India's G20 presidency will be a leap forward to ensuring that the needs and rights of the world's 1.8 billion young people are addressed, that their voices are heard, and they have access to the resources and opportunities necessary for their optimal development." He also said that "Our Prime Minister's vision that India's G20 presidency will be 'inclusive, ambitious, decisive and action-oriented' throws up hope as well as opportunities for India and the world. A prominent role in realizing his vision can be played by youth of the country."
Highlighting the Indian Government's commitment towards youth empowerment, he stated that "this co-branded event focusing on the health and well-being of adolescents and young people with the theme 'Health of Youth Wealth of Nation' underlines the Government of India's leadership in promoting investment in human capital of adolescents and young people and we want to inspire other G20 nations to advance the development of the next generation to build stronger, greener economies and vibrant societies." He also noted that being home to about one fourth of the world's youth demographic which is capable of leading the country to its aspiration of becoming the world's third largest economy, "it is necessary for India to reap this demographic dividend and invest in education, skill development and health of youth".
Dr Mandaviya stated that under Hon'ble Prime Minister's leadership, India has continuously crafted and reinforced policies and programmes to suit the youth and address their health and development needs. He highlighted that "Tele-Manas, a dedicated national tele-mental health program is ensuring that the mental health concerns of the young people of our country are being heard, accepted and managed by a team of experts and professionals at zero cost". He also informed that "a comprehensive School Health and Wellness Programme has been launched by the PM which is envisaging to develop school students as health and wellness messengers, advocates and role models within their schools and communities at large".
The Union Health Minister encouraged the dignitaries to deliberate on key areas of adolescent-friendly health care including mental health support and assistance, nutrition programmes and comprehensive sexual and reproductive health care. He said, "we must value and create spaces for meaningful participation, which involves young people in decision-making processes that affect their lives." "To address the trans-national difficulties that adolescents face, we must promote international cooperation and collaboration by sharing effective models, aligning policies, and mobilizing resources to support countries with limited capacity in fulfilling the health and well-being needs of their adolescents", he further stated.
Highlighting that India is home to one of the world's largest youth populations, with a staggering 378 million adolescent and youth and 65% of the nation's population under the age of 35, Dr Bharati Pravin Pawar stated that "our government firmly believes in the transformative power and boundless potential of our youth. Their energy, ideas, and determination hold the key to shaping the future trajectory of our great nation". She further stated that "investing in the well-being of youth is not just a moral obligation but also a strategic decision that will determine the success and prosperity of our nation."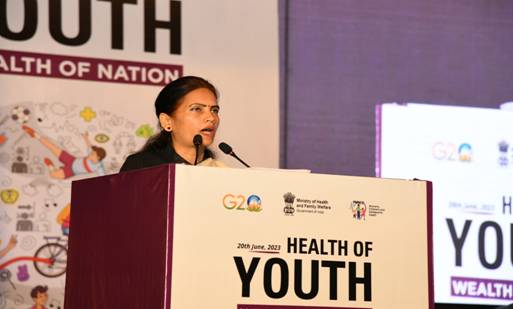 Ms. Helen Clark, PMNCH Board Chair noted that young people today are facing a lot of challenges that are not of their making. She stated that many young girls aged 15 to 19 years are dying during child-birth while many people across the world are facing mental health challenges. Urging countries to address the challenges faced by the youth today, she said, "the call for action is urgent and time to act is now".
Deputy Health Minister of South Africa, Mr. Sibongiseni Dhlomo congratulated the Govt of India for its G20 Presidency and stated that G20 priorities are shaping up well under India's Presidency. He also shared his insights on the challenges faced by the youth and the efforts being made by his government to these challenges and improve their health and well-being. He stated that majority of population in Africa are young people and it is therefore important to ensure that they get proper tools, information, education and opportunity to become responsible stakeholders in future.
Shri Rajesh Bhushan, Union Health Secretary said that policies and programmes that have enabled nations to advance the health and well-being of adolescents and youth in their respective countries, would go a long way in improving their socio-demographic picture so that they could become a positive force now and in future.
Mr Shombi Sharp, UN Resident Coordinator (India) emphasized that the power of youth, multilateralism, G20 and India as the leader of the Global South can help unleash tremendous opportunities and possibilities for the youth. He credited India for bringing numerous policies for adolescent health but highlighted that more needs to be done from countries across the world to make the global SDG goals a reality. "India can make sustainable goals a global reality. Saath hai to sambhav hai", he stated.
Dr. Julitta Onabanjo, Director of Technical Division, UNFPA Headquarter said that "it is our responsibility to recognize and capitalize on the potential of youth, allowing young people to be agents of positive change and facilitating their smooth passage into adulthood." She also congratulated the Indian Government on its outstanding G20 presence and appreciated the powerful theme of 'One Earth, One Family, One Future' of G20 under India's presidency.
Ms. Tuqa AlBakri, Youth Representative from Iraq highlighted that young people are the changemakers of the world as they are the generation of science and technology people, of activism, creativity and energy. She thanked the Indian Government for hosting this youth event and urged policymakers to support the enthusiasm of youth and enable them to become responsible changemakers of the society.
Union Health Minister along with other dignitaries released a compilation of British Medical Journal (BMJ) papers  on adolescent well being -a series of analytical articles, along with thematic paper on 'health of youth- wealth of nation' by Union Health Ministry focusing on the themes center staging Adolescent Health and Multi Sectoral Partnership.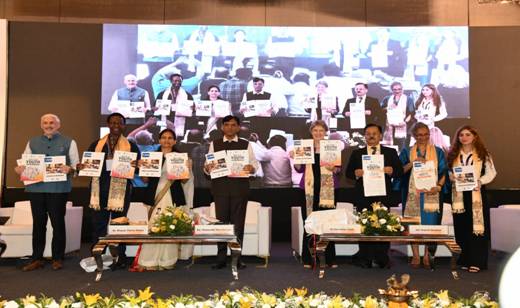 Shri Ashok Babu, Joint Secretary and other senior officials from the Health Ministry, officials from partner agencies like Gates Foundation, UNFPA, USAID, WHO, UNICEF and youth icons from G-20 nations were also present on the occasion.