Indian Institute of Skills (IIS) Kanpur announced 3 key partnerships today with Indian Institute of Technology (IIT) Kanpur, Hindustan Aeronautics Limited (HAL) and Dassault Aircraft Services India (DASI), today, aligned with the objectives of Ministry of Skill Development and Entrepreneurship (MSDE), which is to empower and prepare the local youth for the aerospace and defence sector particularly to support the Defence Industrial Corridor in Uttar Pradesh. The MoUs were exchanged today in the esteemed presence of Shri Dharmendra Pradhan, Union Minister for Education and Skill Development & Entrepreneurship, Government of India in New Delhi.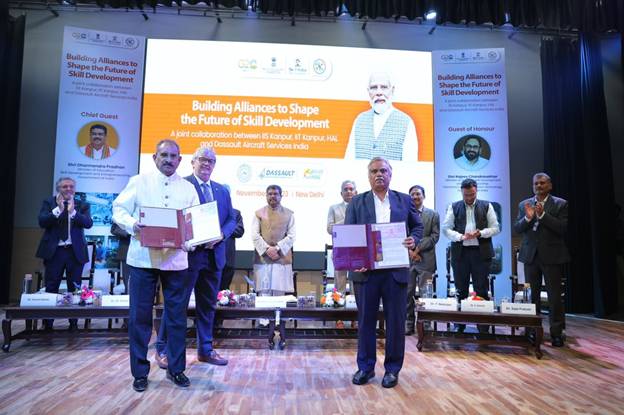 The partnerships focus on the holistic development of youth, especially those in Uttar Pradesh, giving them access to quality modules in new-age courses in Aviation and Defence sectors.
This is the first time ever that as envisaged under the National Education Policy (NEP) 2020, we are witnessing a collaboration between education, skilling and leading industries to build the capabilities of IIS Kanpur. The thought of conceptualizing these IISs was envisioned by Prime Minister, Shri Narendra Modi himself, during his visit to Singapore's Institute of Technical Education, one of the leading institutions equipping students for jobs and career advancement. Similarly, IISs are being established in the country to enhance training standards in the current skill ecosystem.
Speaking on the occasion Shri Pradhan said that the collaboration between IIT Kanpur, Indian Institute of Skills, Kanpur, HAL and Dassault Aircraft Services India, marks a significant chapter towards shaping the future of skill development and empowering India's youth. He stated that for the first-time ever-educational institute, skilling institution and industry are coming together to synergise efforts to certify and future-proof youth.
Shri Pradhan further said that futuristic courses under this collaboration is PM's gift to the youth and workforce of our country. This collaboration will pave the way for leveraging opportunities emerging out of UP's defence corridor as well as for creating new opportunities for skilling, up-skilling, employment and entrepreneurship in the aerospace, aviation and defence sectors, he added.
Lauding the partnership, Shri Atul Kumar Tiwari, Secretary, MSDE said that it's an important day for India as we build the capabilities in IISs with the exchange of three MoUs for IIS Kanpur today. With these partnerships, stakeholders envision the setting up of best-in-class infrastructure accompanied with modern training methodology to build a strong foundation for the youth, particularly those in Uttar Pradesh. It is certain that the young cadre associated with IIS will benefit immensely with the commitment showcased by IIT Kanpur, HAL, and DASSAULT in offering high-quality education in new-age courses, defence and aviation sectors.
The vision behind setting up IIS is to build world-class skill training centres by learning from and imbibing best practices from internationally renowned existing skill institutions. And the designed courses have been put together in consultation with the subject matter experts from the most respected institution of the country IIT, Kanpur. The planned modules will provide knowledge around Industry 4.0 courses such as AI, Machine Learning, Cloud Computing, Data Analytics, Advance Manufacturing, Krishi 2.0 Smart Agriculture, Robotics and Automation and more.
Under another strategic partnership with Hindustan Aeronautics Limited (HAL), HAL will develop a training infrastructure for a CNC lab at the new IIS Kanpur building as part of its Corporate Social Responsibility (CSR). This initiative aims to offer IIS Kanpur's faculties and trainees exposure to advanced CNC machining technology while also facilitating training, re-skilling, and up-skilling for the target group. The goal is to better prepare trainees for industrial jobs, thus supporting the Skill India initiative. Additionally, this project seeks to foster improved collaboration between academia and industry by creating a common engineering environment that is familiar to both parties, enabling more effective know-how sharing.
Overall, from the purview of infrastructure development, 12 laboratories, 12 classrooms, multipurpose room, open theatre, outdoor training area, conference and discussion rooms and a cafeteria.
Further, the partnership envisioned with the Dassault Aviation will help commence a course in Aeronautical Structure and Equipment Fitter (AS&EF) at IIS for providing long-term training in the aviation sector in Kanpur. As a part of the partnership, Dassault Aviation Centre of Excellence is being set up for Aeronautical Vocational Training in the IIS building in the Kanpur Campus.
Strong industry and employer connect is envisioned through these collaborations for supporting latest training facilities in IIS and provide opportunities for on-the-job trainings with leading industries. Further, these partnerships are contributing to the benefit of the society by enabling the local ecosystem to adapt to the state-of-art technology. The Government of India has already set up IISs in 3 locations in the country namely Mumbai, Kanpur and Ahmedabad.