Union Minister of State (Independent Charge) Science & Technology; MoS PMO, Personnel, Public Grievances, Pensions, Atomic Energy and Space, Dr Jitendra Singh has said that under the guidance of Prime Minister Narendra Modi, the Government has launched Mission Karmayogi and Mid-Career Training programmes, which are aimed to train officers for the priorities of  Amrit Kaal and to equip them to contribute to the making of Atmanirbhar Bharat with the optimum use of new technology.
Addressing the inaugural session of 49th Advanced Professional Programme in Public Administration (APPPA) at the Indian Institute of Public Administration (IIPA) here today, the Minister said that the Government has initiated the Ease of Doing Business (EoDB) and Ease of Governance to facilitate delivery of Citizen-centric services for welfare of the common man.
Towards this end, Dr Jitendra Singh said, the Government led by the Prime Minister Shri Narendra Modi amended the Prevention of Corruption Act in 2018 after 30 years so that the bribe giver is also subject to punishment.
"So, the idea of this Government is that, on the one hand as the Prime Minister says, 'Zero tolerance towards corruption', (and) at the same time to provide a working environment which is enabling, which allows you to give maximum outlet to your potentials and capacities, and the Government is very supportive about that," he said.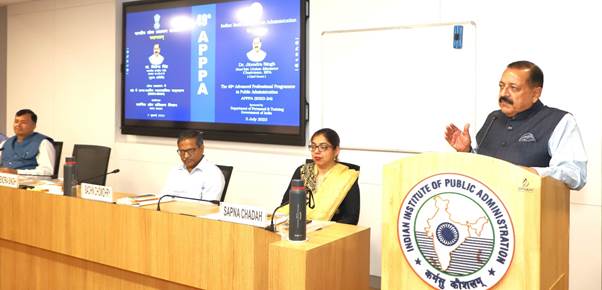 Mission Karmayogi aims at creating an opportunity of world class capacity building to all Government officials based on the key principle of "role-based" rather than "rule-based" and "Competency based" learning to enable government servants play their role efficiently, smartly and effectively.
Dr Jitendra Singh said, the Government has also changed the format of the PM Excellence Awards, which is now based on outcomes and targets achieved in implementation of the Flagship Programmes of the Government. Officer trainees will be required to submit dissertations on Flagship Programmes as part of their training, he said.
Dr Jitendra Singh said the pace of movement is now very fast and Officers have to keep pace with it, especially since we are now part of the global world. New areas like Artificial Intelligence have a huge role in the Defence Forces as well, he said.
APPPA is a customized ten-month course for senior officers of the All India, Central Services including the Defence Services and the State Civil Services. It is designed keeping in mind the priorities of the government and the National Development Agenda.

Indian Institute of Public Administration (IIPA) has successfully completed 48 such programmes and trained 1620 administrators/officers from All-India and Central Services including those from the armed forces and a few foreign countries, teachers of Indian Universities and officers of State Civil Services.