"It is important for MSME Pharma Cos. to be alert to quality of drugs and expeditiously move towards Good Manufacturing Processes (GMP) through self regulation". This was stated by Dr. Mansukh Mandaviya, Union Minister of Chemicals & Fertilizers, and Health & Family Welfare as he met representatives from Pharma Companies from the MSME sector, here today.
Strongly stressing the need for self regulation in the MSME pharma sector, the Union Minister underscored its importance for India to maintain the status of 'Pharmacy of the World'. "Our global position in the pharmaceutical sector is created through the quality of our products. We must undertake all possible steps to ensure that we strengthen this position in terms of value and quality. Hence, the role of self regulation becomes critical", he stated.
Basis Industry's assurance, a major decision taken today, Schedule M shall be made compulsory for the MSME pharma sector in a phased manner. "This will help in quality assurance and also reduce compliance burden', the Union Minister said.
Dr. Mansukh Mandaviya has directed the Drugs Controller General of India (DCGI) to take stringent action against all pharmaceutical manufacturing companies that make spurious drugs. "There shall be no compromise with the quality of drugs manufactured in India", he emphasized.   Highlighting that the Government has zero tolerance towards manufacturers not adhering to quality compliance and making spurious medicines, he stated that special squads have been formed to inspect drugs making companies and stringent actions has been taken.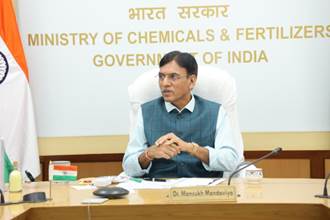 The Union Minister further stated that in order to ensure the highest quality of pharma products, the regulatory authorities have started risk-based inspection and audit of plants. He stated that 137 firms were inspected, and action has been taken against 105 firms. Production has been stopped at 31 firms and Cancellation & Suspension of Product/Section Licenses have been issued against 50 firms. In addition, show cause notice has been issued to 73 firms, and warning letters have been issued against 21 firms.
Ms. S. Aparna, Secretary (Pharma), Dr Rajeev Raghuvanshi, DCGI and senior officers from Deptt. attended the meeting. Dr. Viranchi Shah, National President and other office bearers of IDMA were also present.