Union Minister of State (Independent Charge) Science & Technology; MoS PMO, Personnel, Public Grievances, Pensions, Atomic Energy and Space, Dr Jitendra Singh, Union Minister of Culture, Tourism and the Development of the North Eastern Region, Shri G Kishan Reddy and Lieutenant Governor Jammu and Kashmir, Manoj Sinha today inaugurated Sri Venkateswara Swamy Temple at Jammu which is 6th in the country and first in the Union Territory of Jammu and Kashmir.
Speaking during the occasion, Dr. Jitendra Singh said, the establishment of Sri Venkateswara Swamy Temple at Jammu is a celebration of Idea of India and is a festival of India's 'Unity in Diversity'.
Dr. Jitendra Singh said, the temple being first in Jammu and Kashmir and sixth in India will pave the way for Jammu to become the top religious tourism destination in India.
Under PM Narendra Modi, Dr. Jitendra Singh emphasized, the 8th June, 2023, the day of the inauguration of Sri Venkateswara Swamy Temple at Jammu is a milestone in the journey of development of Jammu.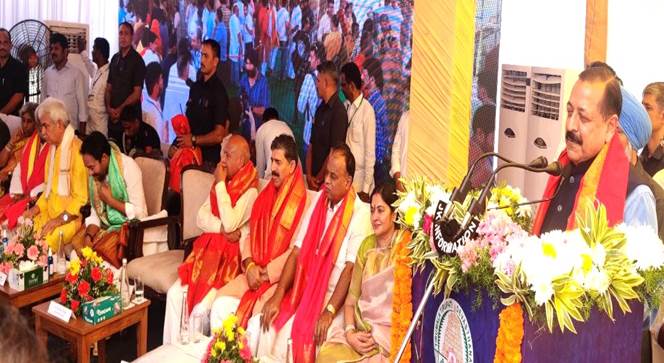 Dr. Jitendra Singh further said, the whole country is now integrated under PM Narendra Modi from east to West, from North to South and the 'Kashi Tamil Sangamam' organised in Varanasi and 'Sri Venkateswara Swamy Temple' at Jammu is the best examples of it with the objective to celebrate, reaffirm and rediscover the age-old links between Tamil Nadu and Kashi, two of the country's most important and ancient seats of learning.
In this address, G. Kishan Reddy said, with the establishment of 'Sri Venkateswara Swamy Temple' at Jammu, it has been proved again to the world that Kashmir to Kanyakumari is one. The ancient civilization is being revived under PM Narendra Modi, the Minister added.
Lieutenant Governor, J&K, Sh. Manoj Sinha said, under the guidance of PM Narendra Modi, J&K is witnessing faster economic development & revival of culture in Amrit Kaal. The Union Territory is touching new heights of glory, divinity and development in its eternal journey, Sh. Sinha added.
Sh. Y V Reddy, Chairman TTD, MP Jammu, Sh. Jugal Kishore, Chief Secretary J&K, Sh. Arun Kumar Mehta and Sh. Prashant Reddy, Member TTD were present during the inaugural ceremony.