The Union Minister for Rural Development and Panchayati Raj Shri Giriraj Singh today said that Mission Antyodaya Survey, brainchild of Prime Minister Narendra Modi will ultimately succeed in realizing the dream of a poverty-free India.
Inaugurating the Mission Antyodaya Survey (MAS) 2022-23 including launching of its portal and mobile application at a function in New Delhi today, Shri Giriraj Singh said, the Mission will ensure effective utilization of resources through convergence of various government schemes with a focused micro plan for sustainable livelihood for each marginalized household. He said, this has been done to underline the philosophy of Prime Minister Modi of "Whole of Government Approach".
The event was graced by Shri Faggan Singh Kulaste, Minister of State for Rural Development and Steel; Sadhvi Niranjan Jyoti, Minister of State for Rural Development and Consumer Affairs, Food & Public Distribution; and Shri Kapil Moreshwar Patil, Minister of State for Panchayati Raj. The event was also be attended, through virtual mode by Ministers from States / UTs, and the Senior officers.
Shri Giriraj Singh said, the other objectives of the scheme are- conducting an annual survey at the Gram Panchayat level to monitor the progress in the development process in rural areas, Panchayat wise ranking based on the data collected through survey at Gram Panchayat level and making gap report. The Gap Report serves as an important input for the Gram Panchayat Development Plan (GPDP), he added.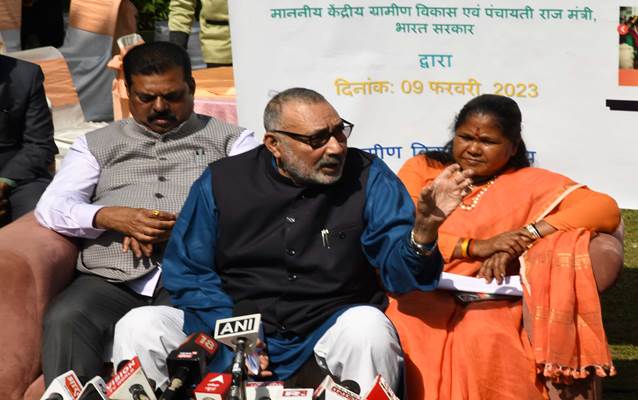 Shri Giriraj Singh informed that Mission Antyodaya Survey 2022-23 Survey will be conducted in all 2,69,253-gram panchayats and equivalent, whose profile has been created on e-Gram Swaraj. However, Tripura, Meghalaya and Nagaland are not covered yet due to elections.
The Survey-2022 Questionnaire has 183 indicators and 216 data points covering 21 areas. The 21 sectors being covered in the M A Survey are: (i) good governance; (ii) agriculture and land development, fuel and fodder; (iii) animal husbandry; (iv) fisheries; (v) rural housing; (vi) water and environmental sanitation; (vii) roads and communications; (viii) conventional and non-conventional energy; (ix) financial and communication infrastructure; (x) markets and fairs; (xi) the Public Distribution System; (xii) library; (xiii) recreation and sports; (xiv)  education/vocational education; (xv) health, nutrition, maternal and child development and family welfare; (xvi) welfare of weaker sections; (xvii) poverty alleviation programme; (xviii) Khadi, village and cottage industries; (xix) social forestry; and (xx) Small scale industries.
The Department of Rural Development has been conducting Mission Antyodaya Survey across all Gram Panchayats in the country since 2017-18 with the purpose of transforming lives and livelihoods of people on measurable outcomes through convergence of various schemes.
Annual survey in Gram Panchayats across the country is an important aspect of Mission Antyodaya framework.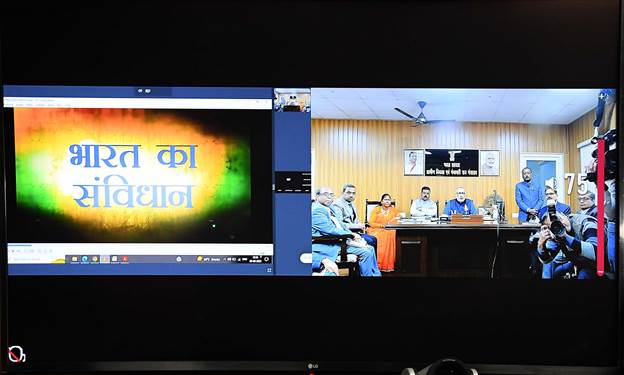 Secretary, Rural Development, Shri Shailesh Kumar Singh said, the survey aims to lend support to the process of participatory planning for Gram Panchayat Development Plan (GPDP) which will improve service delivery, enhance citizenship, create pace for an alliance of people's institutions, and groups and improve governance at the local level.
The preparation of GPDPs is a comprehensive exercise that uses both primary and secondary data for preparing final plan document for any GP. MA Survey presents secondary data to carry out gap analysis and the data will also serve as a key input in the preparation of block and district plans.
The village-wise survey is expected to be conducted over a period of one month involving Community Resource Persons (CRPs). The survey questions have been categorized into five stratums: (i) Panchayat Infrastructure; (ii) Panchayat Services; (iii) Village Infrastructure; (iv) Village Services; and (v) Village Practices.
A total of 26 Central Government Ministries / Departments have been consulted for finalization of the questionnaire. The questionnaire has been translated in 13 regional languages. The Ministry, in consultation with NIC-DRD, has developed the android mobile application with geo-tag feature for 36 assets in villages. The Ministry has also set up in-house Help Desk for smooth resolution of queries related to the questionnaire and mobile application.
Shri Giriraj Singh concluded that India is a signatory to the United Nations' Sustainable Development Agenda 2030 under which 17 Sustainable Development Goals (SDGs) have been adopted. SDG is not only an international obligation, but also a means of reorienting the domestic expenditure priorities of all signatory countries.
The fact that measuring progress on the goals will require quality, reliable and disaggregated data is also underlined by the UN to ensure that "no one is left behind".