The Global Maritime India Summit (GMIS), 2023, one of the biggest maritime summits in the world, recorded major investment of ₹2.37 lakh crores on the second day of the three day summit held here. As many as 70 Memorandum of Understanding (MoU) were signed in the various industries of maritime sector such as Port Development and modernisation, green hydrogen & ammonia, port led development, business & commerce, ship building, knowledge sharing & Port connectivity during the day. Today's MoUs with focus sustainable development were signed in presence of the Union Minister of Ports, Shipping & Waterways and Ayush, Sarbananda Sonowal, the Union Minister of Ports, Shipping & Waterways, Shripad Naik and the Union Minister of Ports, Shipping & Waterways, Shantanu Thakur.
Post MoU signing ceremony, the Union Minister, Sarbananda Sonowal, said, "Today, at the Global Maritime India Summit, 2023 has ushered a new age in sustainable development of the country with a record number of 70 MoUs with an investment of ₹2.37 lakh crores. The maritime sector is playing an instrumental role as it has paved the way for India set sail towards Green Sustainability Transportation. Under the visionary leadership of Prime Minister Shri Narendra Modi ji, India has experienced a historic growth in the last 9 years. Maritime sector is no exception as we are giving major thrust to the future growth multipliers. Under Modi ji's inspired leadership, India has scaled new heights to become fifth largest economy in the world. Now, Modi ji has given us another target to further scale the growth story of India. To achieve, GMIS plays a pivotal role and I am happy to share the mammoth of exchange of ideas as well as understandings with clear vision to make India a developed country by 2047."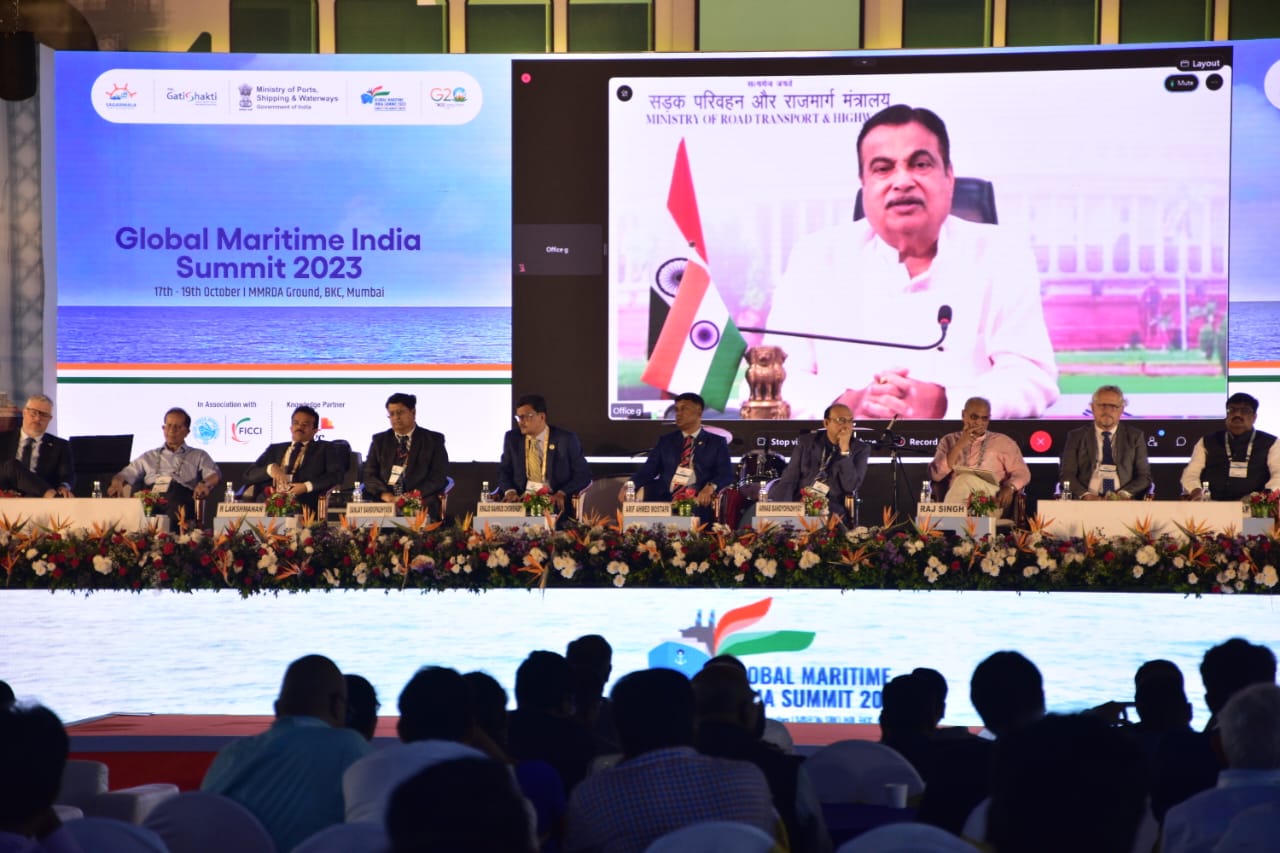 The Union Minister Sarbananda Sonowal also held Ministerial level bilateral meetings with Ministers from Italy, Tanzania and Sri Lanka. The first meeting was with the Deputy Minister, Infrastructure and Transport (Minister of Ports), Italy, Edoardo Rixi. The meeting was also attended by the Secretary of Ministry of Ports, Shipping & Waterways, TK Ramachandran.  Both the ministers agreed to enhance maritime cooperation on identified industries in order to build on the robust maritime relationship between the two countries. During the second meeting, the Union Minister Sarbananda Sonowal met the Minister of Blue Economy and Fisheries, Revolutionary Government of Zanzibar, Tanzania, Suleiman Masoud Madame. In the third meeting, the Minister of Ports, Shipping & Aviation, Sri Lanka, Siripala De Silva met with the Union Minister Sarbananda Sonowal where the two discussed multiple issues to further strengthen and deepen the maritime relationship between the two countries.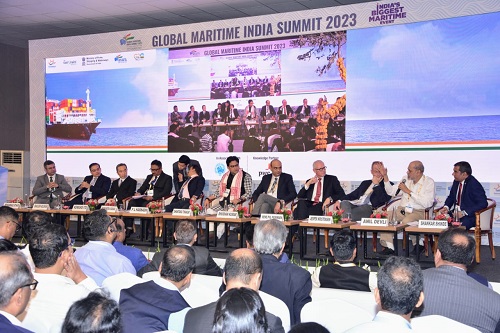 The second day of the GMIS featured a series of insightful sessions, each addressing critical aspects of the maritime industry ranging from green shipping and ports to the latest trends in shipping and maritime logistics. The first session chaired by Ashwini Kumar Choubey, Minister of State, Environment, Forest, and Climate Change, Government of India initiated the discussion around the role of the shipping sector in aligning with the goals set by the Ministry of Environment and Forests for a sustainable and environmentally responsible future. This was followed by sessions related to the latest trends in shipping & maritime logistics and dredging chaired by Shantanu Thakur, Minister of State for Ports, Shipping & Waterways, Government of India.  Union Minister of Road Transport & Highways, Government of India, Nitin Gadkari deliberated virtually on developing inland waterways as an integrated element of multimodal economic corridors and Strategies and roadmap to promote coastal shipping as preferred mode of transport were discussed.
Shripad Yesso Naik, Minister of State for Ports, Shipping and Waterways and Tourism, Government of India highlighted the various measures and initiatives to promote cruise tourism during his session.
The day 2 of the GMIS 2023 concluded with a roundtable on Chabahar Post and its role in enhancing regional connectivity and its inclusion in INSTC (International North-South Transport Corridor) co-chaired by Sarbananda  Sonowal and Meenakshi Lekhi, Minister of State for External Affairs & State for Culture, Government of India.
In a boost to amp up maritime trade and commerce via National Waterways 2 (Brahmaputra), a Memorandum of Understanding (MoU) was signed between India Bangladesh Chamber of Commerce and Industry (IBCCI) and A to Z Exit here today. The memorandum has set the framework to explore the possibility of transportation of various cargo between various destinations of the Northeast region of India and Bangladesh. This endeavour will provide support by facilitating with adequate volume of trade that needs to be shipped or imported into Bhutan from India, Bangladesh and any other countries using the ports operated in India.
Earlier, on day one of the summit, Prime Minister Narendra Modi laid the foundation stones for 21 projects worth ₹18,800 crores with 34 MoUs worth ₹3.24 lakh crore was inked during the Inaugural session. This included Green Projects having share of ₹1.8 lakh crore and Projects of Port Development and Modernisation worth ₹1.1 lakh crore. PM Modi also launched Maritime Amrit Kaal Vision 2047 – a roadmap for maritime sector development for the next 25 years, the Amrit Kaal to make India Atmanirbhar by 2047. At the roundtable on Global Economic Corridors, as many as 60 representatives from various countries attended, which included CEOs from 33 international companies and 17 Indian companies. The inaugural session also witnessed 10 ministers from different countries joined the Union Minister Sarbananda Sonowal on the dais at the event. 21 ministers from 10 countries participated in various sessions at the GMIS, 2023.