Union Minister of Steel and Civil Aviation, Sh. Jyotiraditya M. Scindia held a press conference on the theme 9-years of Government's "Seva, Sushasan and Gareeb kalyan" focusing on the Steel sector, at Rajiv Gandhi Bhawan, New Delhi today.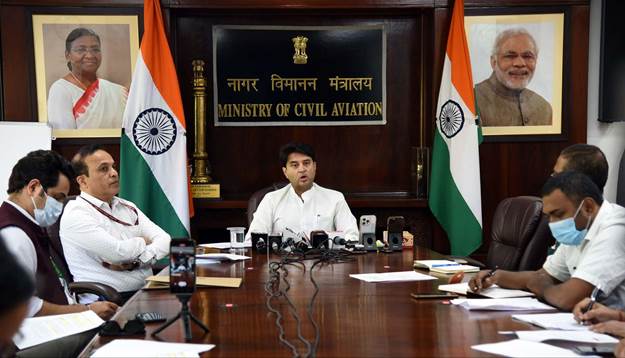 The Minister started his address by highlighting the importance of Steel sector in ensuring the pragati (growth) and vikas (development) of the country. "India currently ranks as the World's 2nd Largest Producer of Crude Steel, surpassing Japan in 2018", the minister said, while mentioning the remarkable growth recorded by India's steel industry.
Highlighting achievements of the government in the last 9 years, he mentioned that India stands as a net exporter of steel witnessing an export of 6.72 MT of finished steel against the import of 6.02 MT in 2022-23. The country was a net importer of steel in 2014-15 with 9.32 MT imports Vis-à-vis the export of 5.59 MT. He also mentioned the progress made by the steel sector from pre-2014-15 to 2022-23 which can be seen in the table mentioned below:
| | | | |
| --- | --- | --- | --- |
| Key parameters | FY 2014-15 | FY 2022-23 | % increase |
| Crude steel Capacity (MT) | 109.85 | 160.3 | 46% |
| Crude steel Production (MT) | 88.98 | 126.26 | 42% |
| Total Finished Steel Production (MT) | 81.86 | 122.28 | 49% |
| Consumption (MT) | 76.99 | 119.86 | 57% |
| Per capita steel consumption (in Kg) | 60.8 | 86.7 | 43% |
In the past 9 years (2014-15 to 2022-23), Steel CPSEs viz. SAIL, NMDC, MOIL, KIOCL, MSTC, and MECON, used ₹90,273.88 crores of their own resources for CAPEX and paid a dividend to the Government of India to the tune of ₹21,204.18 crores
Steel Scrap Recycling Policy
Union Minister, while laying a special emphasis on the Steel Scrap Recycling Policy for promoting the scientific processing and recycling of ferrous scrap, said that Six Vehicle Scrapping Centres have been opened in various cities, with three more planning to begin their operations soon. The minister also mentioned that End-of-life vehicles (ELVs), will be used as raw material for the production of steel and in this regard state governments as well as private sector are being on-boarded.
National Steel Policy 2017 (NSP 2017)
With a focus on developing a "technologically advanced and globally competitive steel industry that promotes economic growth",  Shri Jyotiraditya M. Scindia highlighted the targets set by NSP 2017, which will take the steel sector to new heights. He mentioned that India has set the targets of achieving the total crude steel capacity of 300 MTPA and total crude steel demand/production of 255 MTPA by 2030-31. By 2030-31, it is also envisaged to enhance the operational capacity of crude steel production of SAIL from existing 19.51 MTPA to around 35.65 MTPA tentatively.
The Minister also highlighted the impact of Policy for providing preference to Domestically Manufactured Iron and Steel Products (DMI & SP Policy) in government procurement which has so far resulted in import substitution of ₹34,800 Crore approximately.
Productivity Linked Incentive Scheme (PLI)
The minister, while mentioning the importance of PLI Scheme for domestic production of specialty steel said that so far 57 MoUs involving 27 companies have been signed under the scheme. This will attract a committed investment of around ₹30,000 crore with a downstream capacity addition of 24.7 million tonne and an employment generation potential of 55000.
'Brand India' labeling is an important exercise to differentiate Indian quality steel from the others. The minister in this regard said that the Ministry of Steel has undertaken the initiative of Made in India branding of Steel produced in the country and major Steel Producers havea already come together in this direction. The Ministry of Steel has also on-boarded itself on the PM Gati Shakti National Master Plan Portal and identified 22 critical infrastructure gaps and is pursuing it with the Ministry of Road Transport and Highways, Ministry of Railways, Ministry of Ports, Shipping and Waterways.
In order to promote Decarbonization in steel sector, the Minister mentioned that the ministry has already constituted 13 task forces for identifying the action points for each aspect of green steel production and is in continuous talks with stakeholders from the steel industry and other Ministries/ Departments such as Ministry of Environment, Forests & Climate Change (MOEFCC), Railways, Power, etc