Union Minister of Environment, Forest and Climate Change, Shri Bhupender Yadav said that India highly values the traditional knowledge and wisdom of local people and follows a participatory approach in forest management along with gender equity. He said that under Prime Minister Shri Narendra Modi, India manages her forest areas and their resources in a scientific manner based on the principle of sustainability.
Addressing the High-Level Session virtually on the theme "Healthy Forests for Healthy People" on the occasion of International Day of Forests 2023 hosted by the Food and Agriculture Organisation (FAO) of the United Nations, today, at FAO Headquarters, Rome, Shri Yadav said that use of traditional Ayurvedic system, medicinal plants, non-timber forest produce as source of medicines and forest-based livelihood are deeply ingrained in Indian lifestyle. He said that India has a legal provision for recognising the rights of tribal and forest dependent communities through Forest Rights Act.
Speaking on this occasion Shri Yadav said that the river rejuvenation programme for 13 major rivers through a massive focus on plantation activities, Urban Greening Guidelines of Government of India 2014, Smart Cities Mission launched by Prime Minister Shri Narendra Modi in 2015 aim to promote cities that provide core infrastructure, clean and sustainable environment and a decent quality of life. The Green Highways (Plantation, Transplantation, Beautification & Maintenance) Policy 2015 aims of planting trees along all the highways in the country with the help of local communities, in order to reduce the impact of heat, air and noise pollution and check soil erosion at the embankment slopes.
The Minister informed the gathering that India strongly believes in One health approach to healthy life and fully appreciates the strong connection between people, animals, and the environment shared by them. He said that aiming for Sustainable cities, Communities Forests and urban greens has a major role to play in bringing our cities and communities lifestyle closer towards sustainability, which is one of the 17 UN Sustainable Development Goals. The Union Minister said that India has recognised the urban forest as integral part of city planning process including those in peri-urban areas and is focusing in that area.
Shri Yadav highlighted that Tree Outside Forest (TOF) comprises of 36.18 % of total forest and tree cover of the country. He said that India has a strong drive to expand the green cover by promoting Tree Outside Forest (ToF) including Agroforestry system, river catchments and urban greens. He said that India has a robust institutional mechanism with ICFRE (Indian Council for Forest Research and Education), IIFM (Indian Institute of Forest Management), Wildlife Institute of India to support ecological security and sustainable development of forest ecosystems. He talked about science–policy interface of National Institution for Research and Application of natural resources to Transform, Adapt and build Resilience (NIRANTAR) to drive a sustainable climate resilient economy.
The opening remarks for the High-level session was given Director-General, FAO, Mr QU Dongyu, where the importance of forests for the well-being of people was highlighted.
Shri Yadav also attended the International Day of Forests celebrations today along the riverfront from Signature Bridge to Yudhishtir Setu near Garhi Mandu City Forest, situated in Yamuna Flood Plains. This event was organised by Department of Forests and Wildlife, Government of NCT of Delhi in collaboration with Ministry of Environment, Forest and Climate Change, Government of India.
The Minister said that the efforts taken in the rejuvenation of Yamuna River is an example of action-oriented approach. He said that it helps in recognizing the role of forests and forested landscapes in regulation of the water and related ecosystem services.
The Ministry of Environment, Forest and Climate Change (MoEF&CC) has envisioned forestry interventions as means for river rejuvenation.  Accordingly, a Detailed Project Report (DPR) on 'Rejuvenation of Yamuna through Forestry Interventions' has been prepared for implementation in seven states viz. Uttarakhand, Himachal Pradesh, Haryana, Delhi, Uttar Pradesh, Rajasthan and Madhya Pradesh, which are located in the river basin of Yamuna and its tributaries.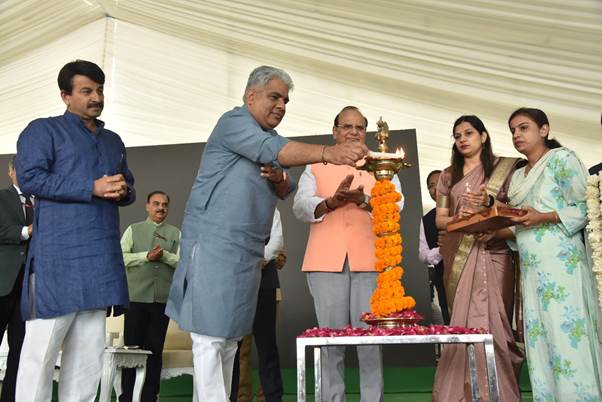 To celebrate the International Day of Forests, plantation activities were undertaken in Yamuna Floodplains by the chief guests, students of eco-clubs, members of Nehru Yuva Kendra, Paryavaran Mitras and Wetland Mitras.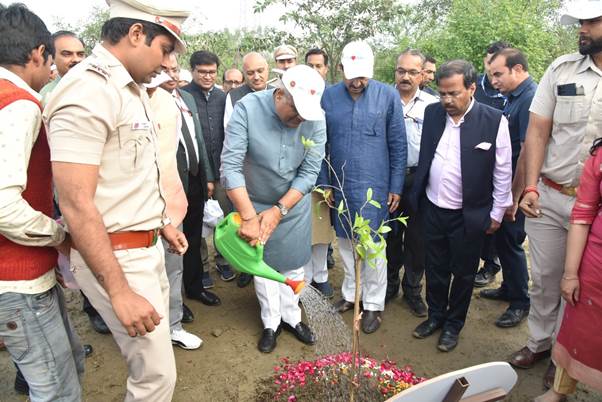 The event was attended by Lieutenant Governor, Delhi, Shri Vinai Kumar Saxena; Member of Parliament, North East Delhi, Shri Manoj Tiwari; Member of Parliament, East Delhi, Shri Gautam Gambhir; Member of Legislative Assembly, Ghonda, Shri Ajay Mahawar  and senior officers of State and Central Government.