Union Minister of Ports, Shipping and Waterways, Shri Sarbananda Sonowal reviewed the project process of National Maritime Heritage Complex, Lothal in Gandhinagar, Gujarat. This meeting was held along with Shri Bhupendrabhai Patel, Chief Minister, Gujarat, Dr. Mansukh Mandaviya, Minister of Health & Family Welfare and Minister of Chemicals & Fertilizers, Shri Shripad Yesso Naik,  Minister of State for Ports, Shipping and Waterways and Tourism, Shri Shantanu Thakur, Minister of State for Ports, Shipping and Waterways.

An MoU was signed during the meeting with Ministry of Defence (Indian Navy & Coast Guard) towards development of a Naval gallery: "The Journey of Indian Navy & Coast Guard" inside NMHC complex.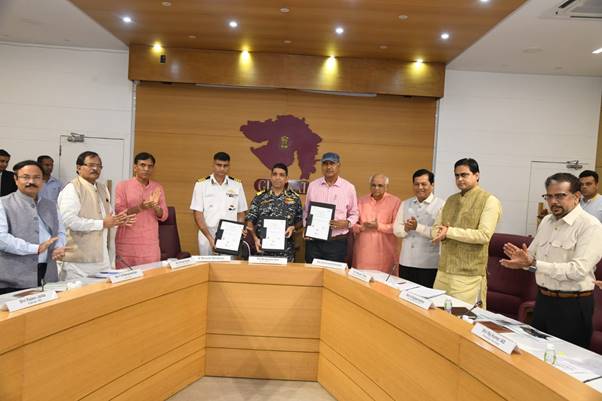 Shri Sarbnanda Sonowal said, 'Under the leadership of our Hon'ble Prime Minister Narendra Modi, Ministry of Ports, Shipping and Waterways is developing National Maritime Heritage Complex at Lothal, Gujarat. This envisages to showcase India's rich and diverse Maritime Heritage. NMHC is one of the major projects of Sagarmala Programme under MoPSW and will be the world's biggest Maritime Museum complex'.
He also mentioned, 'NMHC will act as a centre for learning and understanding India's diverse maritime history and is being built in such a way that the common man of India can easily understand its history'. Shri Sonowal also conveyed gratitude to the Government of Gujarat for continuously supporting the project development.'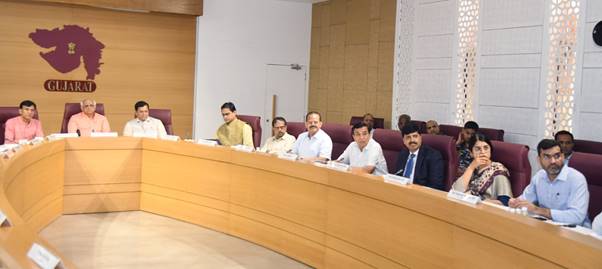 CM of Gujarat has expressed his happiness on the progress of the project and assured full cooperation from the Gujarat state in undertaking various responsibilities assigned to it.
Dr. Mansukh Mandaviya also appreciated the efforts of the Gujarat state government and directed all to further coordinate to complete the project within prescribed timelines.
The Gujarat govt. has allocated 375 acres of land for the project; Additional 25 acres land for development of staff quarters; 4 laning of road from State Highway till NMHC project site which is ongoing; Narmada water supply from about 25 kms which has already been completed; Laying of transmission lines of about 17 kms and funding the setting up of 66 kV GIS substation which is under progress and contribution of Rs. 150 Crore for development of basic internal infrastructure.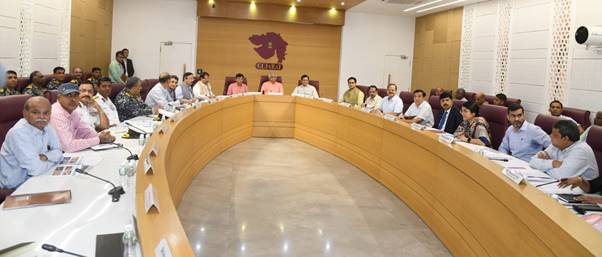 NMHC under Sagarmala Programme of the Ministry of Ports, Shipping and Waterways is being developed in an area of about 400 acres with an estimated cost of Rs. 4500 crore and is being further planned to be developed through the funding from public and private institutes or organizations and CSR. The Major Ports of India are contributing a fund of Rs. 209 crore.
During the progress review meeting of this project Shri Shripad Naik, MoS, MoPSW said, 'NMHC is proposed to be developed as a world class international tourist destination, the first of its kind in the country, comprising of maritime museum, light house museum, maritime theme parks, and amusement parks, etc. It would showcase maritime heritage of the country from ancient to modern times by adopting an edutainment approach'.
'The NMHC will take us a step ahead towards Amritkal and MIV 2030. This will establish India in the global front and educate individuals about the rich heritage of our Maritime sector', said Shri Shantanu Thakur, MoS, MoPSW.
Project status:
Construction of a 4-lane road of 1.58 kms from Saragwada village up to the project site is on the verge of completion. Water supply line of 25 kms and water tank of 10 lakh litre capacity has been completed. Physical progress of phase 1A is more than 30%. Gallery tenders for first 5 galleries have been floated and for naval gallery and Lothal town is under final stage of preparation. Special pink stone quarries from Jodhpur have been identified and tied up for NMHC facade works. Connections with various state departments and institutes for artefact in the museums have been established.
NMHC is being developed as a first of its kind in the country dedicated to the legacy of Maritime Heritage of India, it will not only showcase India's rich and diverse maritime glory but will also highlight the robust maritime history and vibrant coastal tradition of our country at one place that would uplift the image of India's Maritime Heritage in the international forum.
It is to be noted that, the Ministry of Ports, Shipping and Waterways as part of its commitment to the development of the Port Sector in the country has identified 74 projects worth Rs 57,000 crore under the Sagarmala programme in Gujarat. Out of these, 15 projects worth Rs 9,000 crore have been completed; 33 projects worth more than Rs 25,000 crore are under implementation and 26 projects worth Rs 22,700 crore are under development. Central line ministries, major ports, state maritime board and other state agencies are jointly implementing these projects.