Union Minister of State (Independent Charge) Science & Technology; MoS PMO, Personnel, Public Grievances, Pensions, Atomic Energy and Space, Dr Jitendra Singh today said successful launch of Chandrayaan-3 will boost Space StartUps and Space entrepreneurs.
Addressing the G20 Young Entrepreneurs Alliance Summit here, Dr Jitendra Singh said, after Prime Minister Narendra Modi unlocked the Space Sector in 2020 for private participation, Indian Space Research Organization (ISRO) had made history in November last year by launching successfully India's maiden private Vikram-suborbital (VKS) rocket. He called upon the young scientists and youth of the G20 Nations to explore the space possibilities through lucrative StartUp ventures even in a Joint Mission Mode to herald a New Age of Space Entrepreneurship.
The Minister informed the gathering that out of 424 foreign satellites launched till date by India, 389 were launched in the last nine years of the government headed by Prime Minister Narendra Modi. He also added that from January 2018 to till date, ISRO has successfully launched over 200 foreign satellites belonging to major G20 countries including USA, United Kingdom, France, Italy, Australia, Brazil, Canada, Japan, Republic of Korea apart from satellites of Colombia, Finland, Israel, Lithuania, Luxembourg, Malaysia, Netherlands, Singapore, Spain and Switzerland, on-board PSLV and GSLV-MkIII launchers under commercial agreement.
Dr Jitendra Singh called for Public-Private Participation both at the national and international level, particularly among G20 countries to vigorously pursue the business in Space and other allied sectors.
Dr Jitendra Singh also pointed out that during the recent visit of Prime Minister Narendra Modi to the United States, it became clear that America treats India as an equal partner and collaborator in space exploration. He said NASA is today soliciting India's astronauts and the Artemis Accord, where India is also one of the signatories, is also proof of India's great Space march.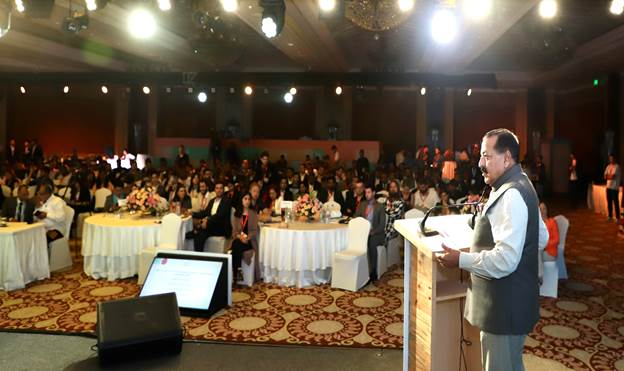 The Minister said, Prime Minister Modi, who concluded his visit to France yesterday, discussed with President Emmanuel Macron cooperation under key pillars of this partnership, including Space, security, civil nuclear technology, counter terrorism, cyber security, climate change and integration of supply chains among others.
Coming back to the theme of the conference, Dr Jitendra Singh said, at a time when the role and importance of India and that of the Prime Minister is rising day by day, it is only fitting that the Presidency of G20 is with the country this year. He noted with satisfaction that today India is the fifth largest economy in the world and it hopes to become the third largest in the next 10-15 years.
Dr Jitendra Singh took pride in the fact that India has a strong network of science and technology institutions and trained manpower. It has the third-largest scientific and technical manpower in the world. India has over 1000 universities. India's GERD as a percentage of GDP stood at around 0.65 per cent.
The Minister informed that very recently, the Government of India has introduced a new fellowship scheme to connect the Science, Technology, Engineering, and Mathematics (STEMM) diaspora of India with Indian academic and research and development institutions for collaborative research activity that will lead to sharing of information, wisdom, and best practices in the frontier areas of science and technology. The Department of Science and Technology (DST), Ministry of Science and Technology, will implement the Vaishvik Bhartiya Vaigyanik (VAIBHAV) fellowships programme, he added.
Referring to a recent global report, Dr Jitendra Singh said, India had lifted about 415 million people out of poverty in the last 15 years and none other than the United Nations has lauded the country. A big credit for this goes to Prime Minister Modi and the various schemes that the government has initiated in the last ten years under his Prime Ministership, he added.
Dr Jitendra Singh said during the Q&A session that the World has begun to expect from India and this is happening very fast. Giving the example of COVID Pandemic, HE SAID, IT WAS India who produced World's first DNA vaccine and gave to the world, besides sharing the COWIN Platform for vaccination.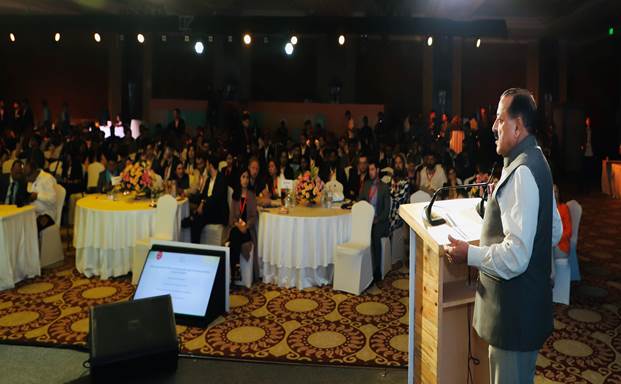 The Minister said India has not only launched the Hydrogen Mission, it is also one of the key players of Solar Alliance. He said, the National Quantum Mission approved recently by Cabinet is also a pointer of India's great Scientific Stride.
Dwelling on the theme of the Conference- A Sustainable World: 2047-Role of Science and Technology, Dr Jitendra Singh said, as a global community, we have our individual and collective responsibilities towards the net-zero goals of COP 26 and also the SDG goals of the United Nations. A major driver for these will be Science and Technology.
In his concluding remarks, Dr Jitendra Singh said, the theme of this Summit is 'Hum' that denotes togetherness in Hindi. Truly, we are One Earth, One Family and in the above spirit, India in its G20 Presidency is committed to share its knowledge, wisdom and processes with other countries of the Global South. He said, as we all know, humanity and the world is concerned about climate change and therefore, we should rise above all differences and work towards One Humanity, for which Science and Technology can play a vital role.