The three 'S', – Skill, Speed and Scale are the key to Capacity Building for StartUps as also for those engaged in any other vocation, Union Minister of State (Independent Charge) Science & Technology; MoS PMO, Personnel, Public Grievances, Pensions, Atomic Energy and Space, Dr Jitendra Singh today said while inaugurating the Training Program conducted by IIM Raipur faculty for the Kendriya Bhandar (KB) staff.
The Minister said, "Quality with Cost-Effectiveness of the end-product is what determines the sustainability amid competition", he said.
Kendriya Bhandar is the first organization in India to seek institutionalised training for its employees.
Training and constant upgrading of skills are the two main aspects constantly reiterated by Prime Minister Narendra Modi, said the Minister.
Dr Jitendra Singh said, success stories like Chandrayaan-3 and G20 have established PM Modi as the world's tallest leader. He said, these successes have been possible because ever since PM Modi took over in May 2014, he has heralded a new work culture, where excellence is pursued and promoted.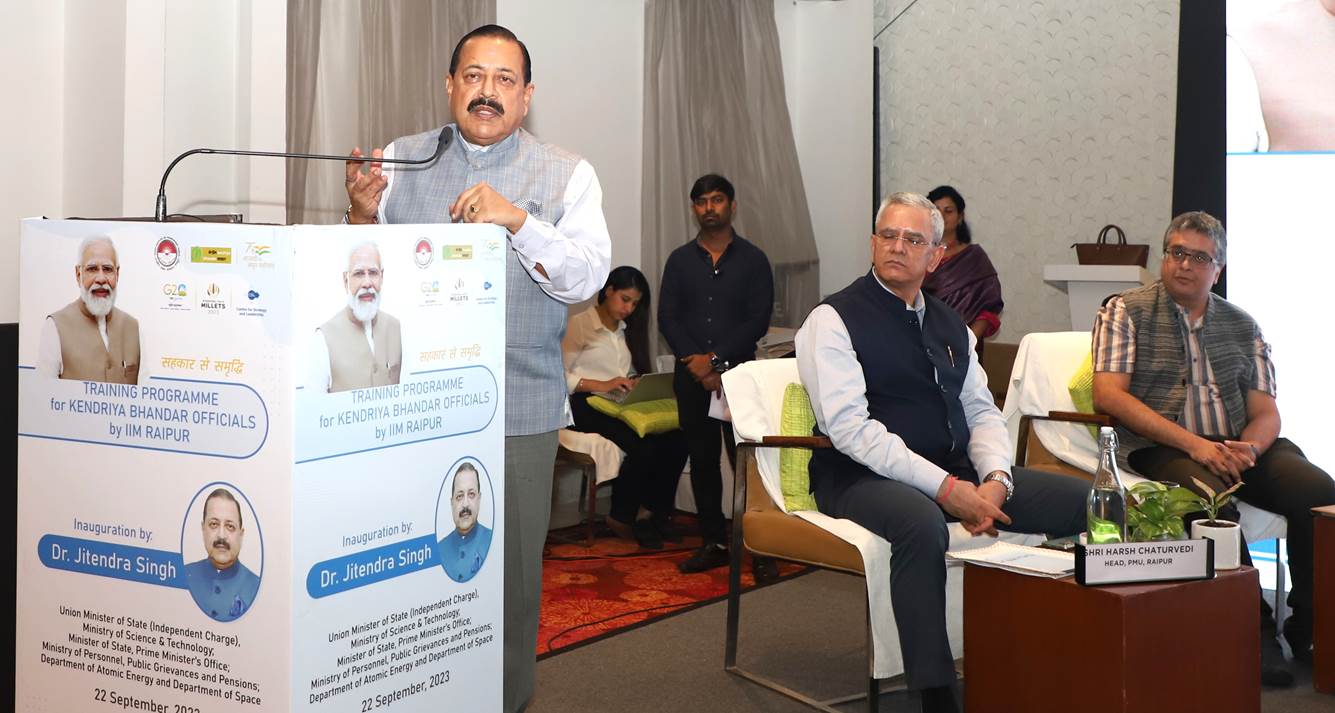 Dr Jitendra Singh said, the KB Society was performing dismally after the withdrawal of Stationery OM in March 2015, and the sales turnover started falling down by Rs.100-150 crores annually and the profit also declined sharply till March 2018 and thus the Society was almost on the verge of losses.

The Minister said, it was the cost-cutting measures and the efforts of the Managing Director Dr. Mukesh Kumar and the Board of Directors and all employees of the Kendriya Bhandar for ushering in a lot of reforms, especially in the wake of Covid pandemic, and thus making a turn around.  As a result, profits soared over 30%.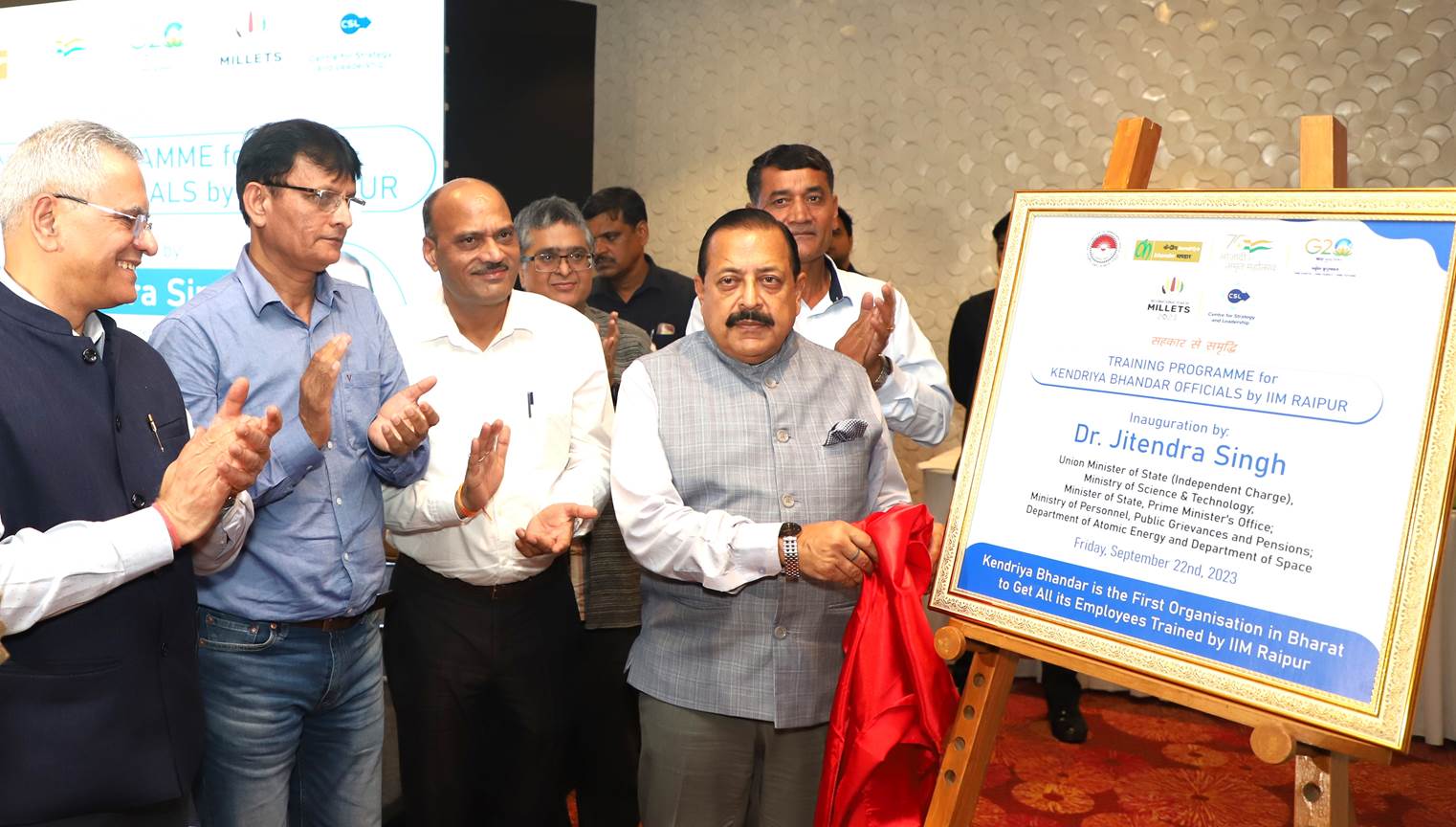 In his address, Dr. Mukesh Kumar said, the Society has taken a lot of measures to heighten the morale and confidence of the employees by granting them fair wages which are comparable to the industry, while record number of promotions at faster pace to the performing employees were granted. He said, apart from these, measures like re-designation of posts guaranteeing respect, improving the quality of life at work place and periodical training through cooperative institutes, FSSAI and other activities for personality development of the employees.
Kendriya Bhandar created an all-time record by achieving five-fold growth of Rs.4,043 crores in 2021-22 from Rs.750 crores in 2017-18, which is unprecedented in any public or private sector.
It is also worth mentioning here that the society had accumulated fixed deposits of Rs.98.59 crores in 55 years since its coming into existence and Rs.41.28 crores (29.51% of total Rs.139.87 crores) have been added in the last five years.
The Society serves the common man by providing essential commodities at the lowest rates in the country.  In recent times, the Society sold Onions @ Rs.15/- per kg against market price of Rs.70/- per kg; Bharat Atta @ Rs.27.50 per kg against market price of Rs.40/- to Rs.45/- per kg in February-March 2023; Sold Tomatoes @ Rs.70/- per kg against market price of Rs.200/- per kg in the month of August, 2023; Selling Bharat Dal (Chana Dal) @ Rs.58/- per kg against market price of Rs.110/- per kg.   Further, the role of Kendriya Bhandar during the Corona / crisis has been commendable as it provided fastest services and quality items at the lowest rate in the country.
Kendriya Bhandar was set up in 1963 as a Welfare Project.  It has been registered as a Multi-State Co-operative Society under MSCS Act 2002 with shareholding of the Govt. and Govt. employees.  It has over 93,000 members out of which more than 10,000 members are still serving in Govt. The Society is managed by a Board of Directors (14 Directors).  The Board has 09 elected Directors, 03 Nominated, 01 MD and 01 Co-opted Director. The Society has 149 shops and establishments/offices, besides 05 Chemist Shops/Jan Aushadhi outlets all over the country.