Union Home Minister and Minister of Cooperation Shri Amit Shah addressed the 49th All India Police Science Congress as the chief guest in Dehradun, Uttarakhand, today. Several dignitaries, including Chief Minister of Uttarakhand Shri Pushkar Singh Dhami, Union Home Secretary, the Director-General of BPR&D, were present on the occasion.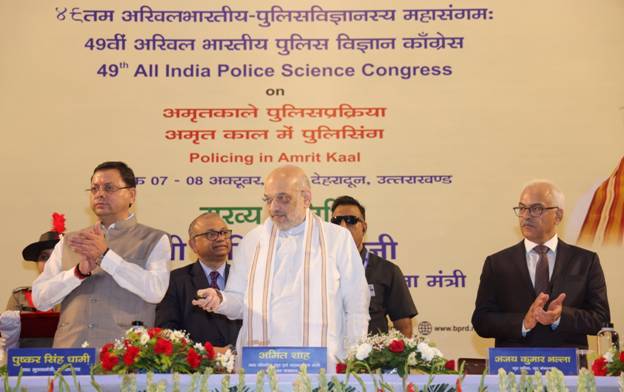 In his address, Shri Amit Shah said that the 49th All India Police Science Congress assumes great significance as it is the first Police Science Congress during the Amrit Kal. He said that Prime Minister Shri Narendra Modi has named the period between 75-100 years of India's independence as "Amrit Kal." This journey of Amrit Kal is very important for every citizen of India as the Prime Minister has termed it as a time for all of us to make resolutions and work towards accomplishing them (Sankalp se Siddhi). Shri Shah said that Prime Minister Shri Narendra Modi has set a goal before the people of the country that when India celebrates its centenary of independence, our nation should be at the forefront in every field in the world. Shri Shah said that to achieve this, hard work is required in every sector, and the first condition for it is that the country's law and order, internal security, and border security must be robust. He added that until a country ensures the security of its borders and maintains internal security, it cannot develop. Good law and order situation is the first condition for development and for this, in the year of Azadi ka Amrit Mahotsav, the Home Ministry has brought about many changes to further strengthen the law and order in the country. These changes will be implemented on the ground during the Amrit Kaal to showcase their success to the country.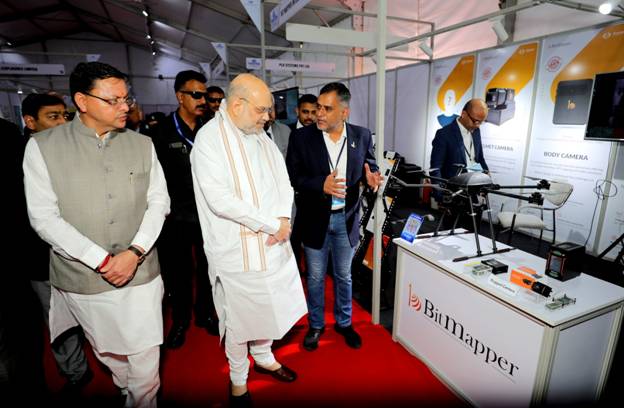 Union Home Minister said that under the leadership of Prime Minister Shri Narendra Modi, significant changes have been brought in every sector in the country from 2019 to 2023. He said that the complete blueprint for implementing these changes on the ground, from the Home Ministry of the Government of India to the last police station of the country, will be laid out during this Police Science Congress. Shri Shah said that during the Police Science Congress, discussions will be held on six topics: Policing in the 5G Era, Narcotics-A Game-Changing Perspective, Challenges of Social Media, Community Policing, Challenges of Internal Security, and Coordination between Police and CAPFs-Security of borders. He said that all these topics cover internal security, law and order and security of borders in-toto. He said that both, Police Reform and Police Reforms, have different definitions.
Mentioning abrogation of Article 370 in Jammu and Kashmir, Shri Amit Shah said that now looking at the current situation, every citizen of the country can breathe a sigh of relief, knowing that it has now become an integral part of India, and no one can take it away from us. He added that due to reduction in violence in regions affected by Left-Wing Extremism, development is reaching every village and individual. A new era of health, education, and infrastructure has begun.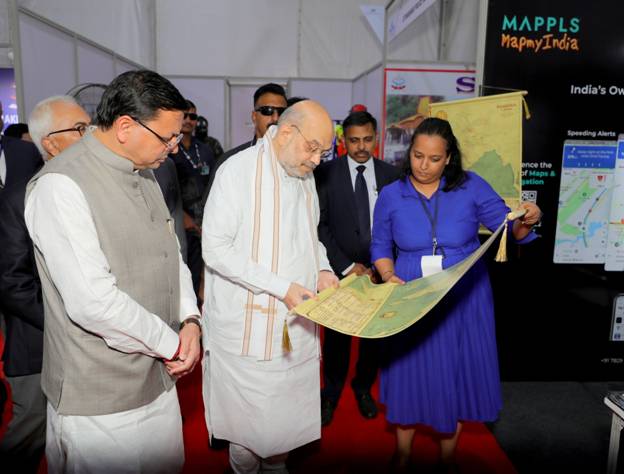 Union Home Minister and Minister of Cooperation said that today a Compendium of the 49th All India Police Science Congress, BPR&D's prestigious Hindi Magazine – Police Vigyaan and Uttarakhand Police magazine – Marching with the Times have been released. He said that the Ministry of Home Affairs has taken several steps to strengthen BPR&D in the last 5 years. The charter of BPR&D has been expanded to include maritime border management and capacity building of CAPFs, internal security challenges, police image and police community interface, etc. A separate vertical has been created to develop indigenous devices and for this a meaningful dialogue has been held with researchers, scientists, professors, students and industries. Shri Shah said that under the leadership of Prime Minister Modi, India is moving towards becoming self-reliant in terms of resources and equipment required for internal security. He said that Modernization Division of the Bureau has organized webinars and workshops on topics like cyber security, cybercrime prevention, drone forensics and emerging challenges of cyber laws.
Shri Amit Shah said that recently the Government of India has introduced three new criminal laws in the Parliament which are currently under consideration with the Standing Committee on Home Affairs. He said that these three new bills will replace IPC, CrPC and the Evidence Act, which were enacted by the British. He said that no changes were made in these laws since 1860 till 2023. He said that changes in the society necessitate changes in the laws because the scale and method of crime has changed and now crimes are also being committed with the use of technology. He said that due to lack of changes in our old laws, there was a backlog of cases in the courts and our criminal justice system had become infamous for delays. Shri Shah said that now after the passage of these three new criminal laws, the people of the country will get justice at the earliest. He said that by defining terrorism and organized crime in three new criminal laws, the Modi government has worked to protect the country. Strict provisions have been made in these laws for inter-state gangs, a lot of emphasis has been laid on capacity building of the office of the Directorate of Prosecution, to increase the use of forensic science, visits of forensic science experts have also been made compulsory in crimes having more than 6 years punishment. He said that action has been taken and a time bound plan has also been made to increase the conviction rate.
The Union Home Minister said that Indian Criminal Justice System is entering into a new era with the use of Forensic Science, role of CCTNS & ICJS and three new laws to replace IPC, CrPc and Evidence Act in Amrit Kal. This will not only provide security to every citizen but also ensure internal security. He said that this is not possible without using technology. Under ICJS, computerization of 99.9% i.e. 16733 police stations of the country has been done and they are connected with CCTNS.  22000 courts have been connected with e-courts, data of more than two crore prisoners is available through e-prison, more than one crore prosecution data is available through e-Prosecution and more than 17 lakh forensic data is also available through e-Forensics. More than 90 lakh fingerprint records are available through NAFIS, data of all 22,000 cases registered under UAPA is also available over iMOT and through NIDAN, data of more than 5 lakh narco offenders in Narco is also available with us. Apart from this, data of about one lakh human traffickers is also available under NDHTO, in cases of human trafficking. Data of more than 14 lakh alerts is available in CRIMAC, data of more than 28 lakh complete complaints is available in the National Crime Reporting Portal and we are also going to do complete computerization of the prison. Shri Shah said that we will have to strengthen our criminal justice system on the basis of such a vast database.
Shri Amit Shah said that we have made arrangements to present all types of documents before the court electronically, to make summons, warrants and testimony from prison online under the legal provisions in all these laws which will ensure justice without any delay. He said that implementation of all these provisions is possible only when the police of the entire country imbibe them and these are taken to the level of the police station. He said that the Modi government has also taken many steps for the security of digital public goods.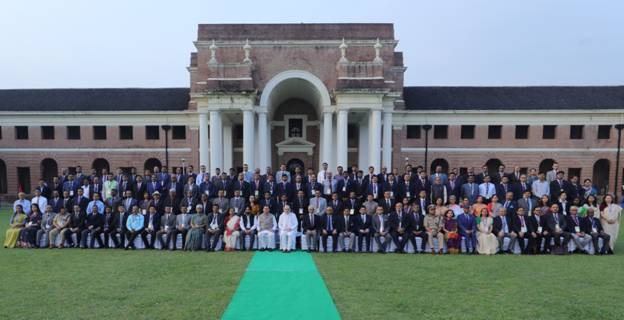 Union Home Minister and Minister of Cooperation said that Under the leadership of PM Modi, the country is progressing in every field and will emerge as a strong economic power in coming days, at such times, the police and agencies will be required to protect our financial institutions more rigorously. He said that when there is development in every field, many challenges also arise and our police will have to prepare themselves to meet those challenges. Shri Shah said that our young police officers will also have to work on new issues like security of the country's critical infrastructure, cyber security audit in states, social media and continuous monitoring of visa. Shri Shah said that in the approach of counter terrorism, time has come to completely uproot terrorism from our country by going beyond the zero tolerance policy and moving towards zero tolerance strategy and zero tolerance action.
Shri Amit Shah said that there is a need to increase coordination between various agencies in the police forces of the states. He said that police across the country should associate themselves with Rashtriya Raksha Shakti University and Forensic Science University. They should also study Modus Operandi Bureau and start developing it in their respective states. There is a need to strengthen the system of Directorate of Prosecution, revival of the beat system, regularization the parade and revival of the information gathering system. He said that no one can analyze intelligence better than the human brain, for this we will also have to revive the information gathering system. Shri Shah said that the Left Wing Extremism states should cooperate in the efforts being made to establish base camps in the forward areas.