Union Home Minister and Minister of Cooperation, Shri Amit Shah addressed the inaugural session G-20 Conference on Crime and Security in the Age of NFTs, AI and the Metaverse, in Gurugram, Haryana, today. Home Minister flagged off the Cyber Volunteer Squads from 7 premier educational institutions of India. Shri Amit Shah also inaugurated an exhibition and released Conference Medallion. The Inaugural session of the Conference was attended by Minister of State for Home Affairs, Shri Ajay Kumar Mishra, Minister of State for Electronics and IT, Shri Rajiv Chandrasekhar, Union Home Secretary and other dignitaries. Over 900 participants from G20 countries, 9 special invitee countries, international bodies and technology leaders and domain experts from India and across the world are attending the two-day conference.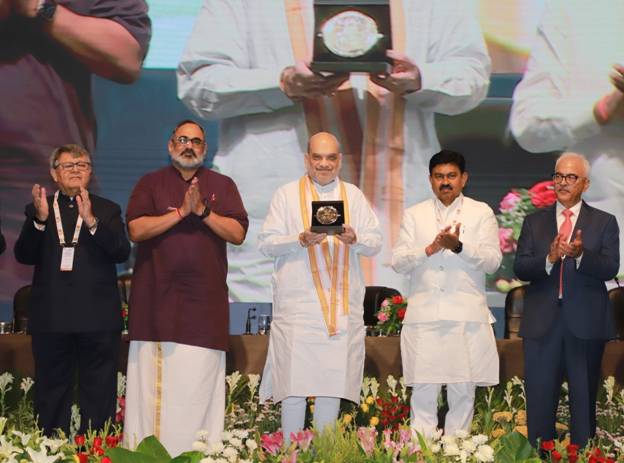 In his address, shri Amit Shah emphasised on the urgent need for cooperation, both at the national and international levels, to build cyber resilience in an increasingly connected world. He said that that this year, India is presiding over the G-20, and, theme of India's G-20 presidency is "Vasudhaiva Kutumbakam" or "One Earth–One Family–One Future", which reflects our cultural heritage. He noted that the theme is perhaps the most relevant in today's 'Digital World'.
Union Home Minister said that technology has transcended all conventional geographical, political and economic boundaries and today, we live in a big global digital village. He said that although, technology is a positive development in bringing human beings, communities and countries closer, there are also some anti-social elements and global forces, that are using technology to cause economic and social harm to citizens and governments. He said that, therefore, this conference becomes all the more important as it can be an important global initiative towards coordinated action to make the digital world safer for all.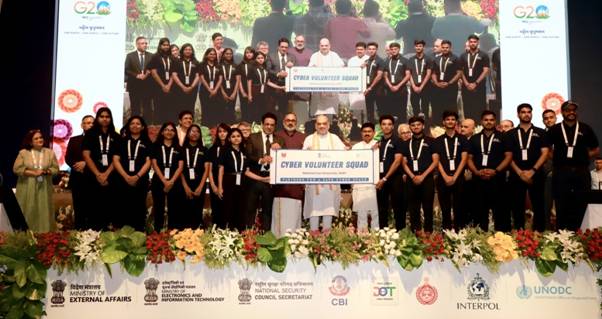 Shri Amit Shah said that Prime Minister Shri Narendra Modi believes that "Cyber security is no longer confined to the digital world only. It has become a subject of national security – global security.". He said that Prime Minister Modi has emphasized the humane aspect of technology. Shri Shah said that Modi ji has integrated the "Internet of Things" with "Emotions of Things" to ensure 'compassion' and 'sensitivity' in the use of technology.
Union Home Minister and Minister of Cooperation said that under leadership of Prime Minister Shri Narendra Modi, India has been at the forefront of adopting emerging technologies at the grassroots level and we aim to make modern technology more accessible and affordable to all sections of society. The Home Minister said that today, 840 million Indians have an online presence, and by 2025 another 400 million Indians will enter the digital world. He said that internet connections in India have increased by 250% in last 9 years and that the cost of per GB of Data has been reduced by 96%. He said that under Pradhan Mantri Jan-Dhan Yojana, 500 million new bank accounts have been opened, and, 330 million RuPay Debit Cards have been distributed. Shri Shah said that India leads in global digital payments with 90 million transactions in 2022 and UPI transactions in India to date are worth Rs.35 trillion. He said that 46% of global digital payments are done in India and there has been 50 times increase in transaction volume since year 2017-18. Shri Shah said that through Direct Benefit Transfer (DBT), covering over 300 schemes across 52 ministries, an amount of Rs.300 million has been directly transferred to the bank accounts of beneficiaries. He said that DigiLocker stores around 6 billion documents. Under BharatNet, 600,000 kilometers of Optical Fiber Cable (OFC) has been laid in the country. Shri Shah said that UMANG App – Unified Mobile Application for New Age Governance – has been launched with 53 million Registrations. Initiatives for 'digital delivery of services' have transformed India into a 'Digital Nation' within a decade.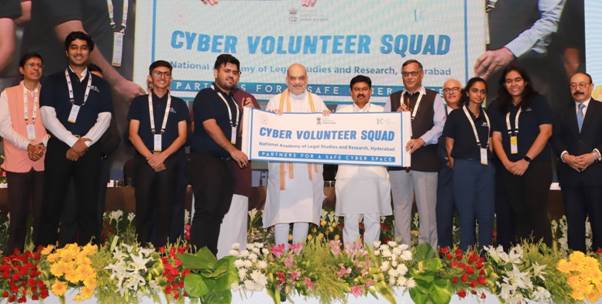 Shri Amit Shah said that at the same time, the possibilities of cyber threats have also increased. He quoted Interpol's 'Global Trend Summary Report' for the year 2022, that some of the cybercrime trends such as ransomware, phishing, online scams, online child sexual abuse and hacking are posing serious threats across the globe and there is a possibility that these cyber crimes will increase manifold in the future. Shri Shah said that in this context, this summit is a new and unique initiative of the G-20 Presidency and this is the first conference on cyber security in the G-20. He said that the G-20 has so far focused on digital transformation and data flow from an economic perspective, but now it is very important to understand the aspects of crime and security and find a solution. He said that it is our endeavor to stay ahead in the era of NFTs, AI, Metaverse and other emerging technologies by responding in a timely manner to new and emerging threats in a coordinated and cooperative approach.
Union Home Minister said that a greater focus on cyber security at the G-20 forum can make a positive contribution to ensure the security and integrity of critical 'information infrastructure' and 'digital public platforms'. He said that discussion on cyber space security and cyber crime on the platform of G-20 will help in the development of 'the Intelligence and Information Sharing Network' and will give a boost to 'Global Cooperation' in this field. Shri Shah said that the objective of this conference is to promote a secure and efficient international framework for empowering and securing 'digital public goods' and 'digital public infrastructure' as well as optimally harnessing the power of technology.
Shri Amit Shah said that during the six sessions of the two-day conference, there will be meaningful discussion on International Cooperation Framework in subjects such as,
Internet Governance,
Security of Digital Public Infrastructure,
Legal and Regulatory Issues related to Digital Ownership,
Responsible use of AI and International Cooperation Framework for Dark Net.
Shri Shah expressed happiness that the international community has wholeheartedly supported this conference. He said that apart from G-20 members, 9 guest countries and 2 major international organizations, INTERPOL and UNODC, as well as various international speakers are participating in this conference.
Union Home Minister and Minister of Cooperation said that in the wake of this digital age, cyber security has become an essential aspect of global security, that requires adequate attention on its economic and geo-political implications. He said that it is essential to strengthen the capabilities of nations and international organizations to deal with new and emerging, traditional and non-traditional challenges, including terrorism, terror financing, radicalization, narco, narco-terror links, and misinformation in a better way. Shri Shah noted that the transformation of our security challenges from 'Dynamite to Metaverse, and, conversion of 'Hawala to Crypto Currency' is a matter of concern for the countries of the world, and, all of us together, have to devise a common strategy against it. Shri Shah said that terrorists are finding new ways to perpetrate violence, radicalize youth and raise financial resources and that the new methods in the form of virtual assets are being used by terrorists for financial transactions. He said that terrorists are using dark-net to hide their identity and spread radical material. Shri Shah stated that we have to understand the pattern of these activities running on the dark-net, and find solutions for the same. He said that to create a "robust and efficient operational system, we need to think coherently to crack down on the use of various virtual assets.
Shri Amit Shah said that the Metaverse, once a science fiction idea, has now stepped into the real world and it may create new opportunities for terrorist organizations, primarily for propaganda, recruitment and training. He noted that this will make it easier for terrorist organizations to select and target vulnerable people and prepare material according to their vulnerabilities. He said that the metaverse also creates opportunities for true imitation of a user's identity, known as "deep-fakes", and, by using better biometric information about individuals, criminals will be able to impersonate users and steal their identities. Shri Shah said that incidents ranging from ransomware attacks, sale of critical personal data, online harassment and child abuse to fake news and mis-information campaigns with 'toolkits', are being carried out by cybercriminals. He said that at the same time, there is also a growing tendency to strategically target critical information and financial systems. Such activities are a matter of national concern, as their activities have a direct impact on national security, law and order and the economy. He emphasised that if such crimes and criminals have to be stopped, then we have to think and act by rising above the conventional geographic boundaries. Shri Shah pointed out that the targets in digital warfare are not our physical resources, but our ability to act online and disruption of online network even for a few minutes, can be fatal.
Union Home Minister said that today, all the governments of the world are promoting digital means in governance and public welfare and in this direction, it is necessary that citizens have faith in digital platforms. He said that insecurity in the digital space also raises questions about the legitimacy and sovereignty of the nation-state. Shri Shah said that our Internet vision should neither be one of excessive freedom threatening the very existence of our nations nor one of isolationist structures such as  digital firewalls. He said that India has set up certain 'open-access digital public infrastructure' models, which have become examples in the world today. India has developed Aadhaar model for digital identity, UPI model of real-time fast payment, Open Network for Digital Commerce (ONDC), and, Open Health Service Network in the field of health. Shri Shah said that the world today needs a model for digital public infrastructure to facilitate the flow of information and finance and this will facilitate the countries of the world to digitally empower their citizens.
Shri Amit Shah said that many countries of the world have become victims of cyber attacks and this threat is hovering over all the major economies of the world. He stated that, according to World Bank estimates, cyber- attacks could have caused losses of around $5.2 trillion to the world during the years 2019-2023. The use of crypto currency by malicious threat actors further complicates its detection and prevention. Shri Shah said that the Government of India, under the leadership of Prime Minister Shri Narendra Modi, has worked towards outlining a uniform cyber strategy, Real-time reporting of cyber-crimes, capacity building of Law Enforcement Agencies, designing analytical tools, and setting up a national network of forensic laboratories, ensuring cyber hygiene, and spreading cyber awareness to every citizen. Shri Shah said that the Crime and Criminal Tracking Network and System (CCTNS) has been implemented in all the police stations of the country. He said that the Government of India has established the Indian Cyber-Crime Coordination Center (I-4C) to ensure a comprehensive response against cybercrime. The government of India has also created a massive open online courses platform called the 'CyTrain' portal, which perhaps, will be the world's largest training program in the field of cyber security.
The Union Home Minister and Minister of Cooperation drew the attention of the participants to a few points, to ensure a Safe and secure Cyberspace. He said, there must be efforts to bring some uniformity in the laws of all countries made to counter digital crimes. Keeping in mind the borderless nature of cybercrimes, we must put in place a response mechanism under different laws of the countries. Global cooperation in this area will help in harmonizing cyber security benchmarks, best practices and regulations. Shri Shah expressed hope that this conference will provide a concrete action plan in this direction. He said that an integrated and stable approach to cyber security policies will facilitate interoperability, increase trust in information sharing and reduce the agency protocols and resources gaps. He said that the need of the hour is to share 'real- time cyber threat intelligence' among member countries with active support from industry and academia to secure the nation's critical infrastructure. There should be greater coordination among cyber agencies of all countries in reporting and action on cyber incidents. Cooperation in the investigation of cross-border cyber crimes through joint efforts to build a 'peaceful, secure, deterrent and open' information and communication technology environment is extremely necessary today. In line with the United Nations Convention on the Criminal Use of Information and Communication Technology, speedy preservation, investigation and co-ordination of evidences is essential. Computer Emergency Response Teams (CERTs) must be strengthened to deal with emerging threats due to emerging technologies. There should be a 24×7 cyber security mechanism in place for an effective 'predictive – preventive – protective and recovery' action. The nature of the Cyber Threat Landscape has spread across national boundaries, necessitating cooperation and sharing of information by nations, organizations and stakeholders to effectively combat cybercrimes. Time has come to build a 'Transparent and Accountable AI and Emerging Technologies Governance Framework' to ensure responsible use. Given the rise in cybercrime involving digital currency, there is a need for a 'dedicated common channel' among the nations to prevent such financial irregularities. Third-party verification of NFT platforms will increase trust and curb criminal activities.
Concluding his address, the Union Home Minister and Minister of Cooperation, Shri Amit Shah once again emphasized that no single country or organization can combat cyber threats alone – it requires a united front. He said that our future has given us the opportunity to remain steadfast in our commitment to 'using technology with sensitivity' and 'ensuring public safety and security', and, this task cannot be handled by the governments alone. Shri Shah said that we aim to create a 'Cyber Success World' and not a 'Cyber Failure World'. He said that together, we can harness the potential of these technologies while ensuring a 'secure and prosperous digital future' for all.