As reported by Food and Agriculture Organization (FAO) of the United Nations, India is the second largest producer of Fruits, as well as Vegetables, in the world in the year 2019.
Andhra Pradesh, Maharashtra, Uttar Pradesh, Madhya Pradesh, Gujarat, Karnataka and Tamil Nadu are the major Fruits producing States, whereas Uttar Pradesh, West Bengal, Madhya Pradesh, Bihar, Gujarat, Maharashtra and Odisha are the major Vegetables producing States of the country.
The Mission for Integrated Development of Horticulture (MIDH), a Centrally Sponsored Scheme is being implemented w.e.f. 2014-15, for holistic growth of the horticulture sector covering fruits, vegetables, root and tuber crops, mushrooms, spices, flowers, aromatic plants, coconut, cashew and cocoa. All States (including Assam) and UTs are covered under MIDH.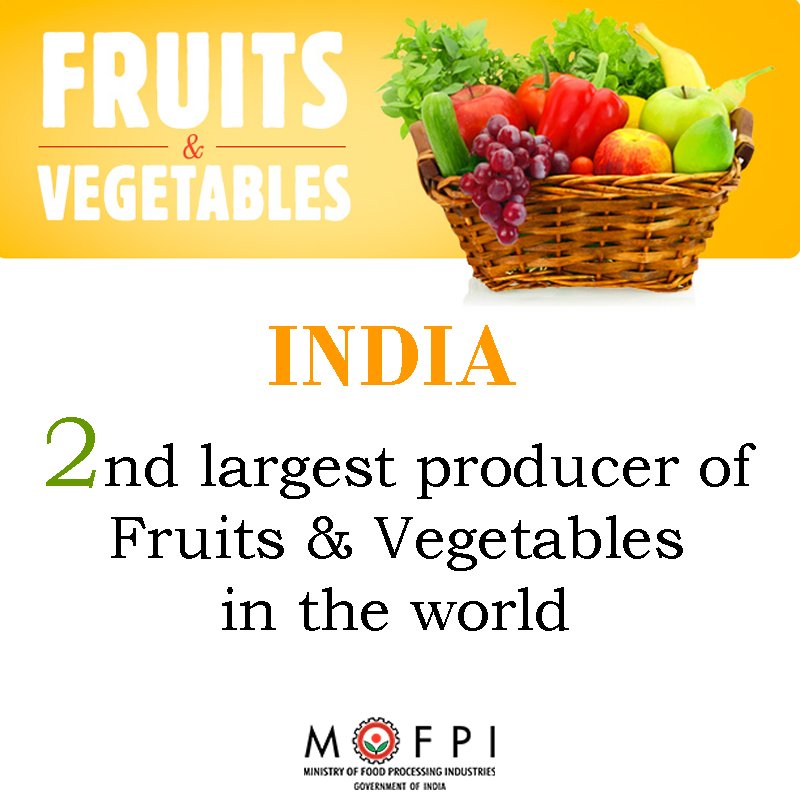 The Mission envisages production and productivity improvement of horticulture crops including fruits and vegetables through various interventions. Under MIDH, assistance is provided for activities such as production of planting material, vegetable seed production, coverage of area with improved cultivars, rejuvenation of senile orchards, protected cultivation, creation of water resources, adoption of Integrated Pest Management (IPM), Integrated Nutrient Management (INM), organic farming, including insitu generation of organic inputs are taken up for development of fruits and vegetables. Capacity buildings of farmers and technicians are also provided for adopting improved technologies. The Scheme also envisages creation of Post Harvest Management (PHM) and marketing for better price realization of produce.