BJP-led National Democratic Alliance (NDA) candidate Shri Jagdeep Dhankhar was on 11 August 2022 sworn in as the 14th Vice President of India. Shri Dhankar's oath was administered by the Hon'ble President Smt. Droupadi Murmu at Rashtrapati Bhavan in New Delhi.
Prime Minister Shri Narendra Modi, former President Shri Ram Nath Kovind, former Vice President Shri M Venkaiah Naidu, and several other leaders were present at the oath-taking ceremony of the new Vice President.
Ahead of his swearing-in, Shri Dhankhar visited Raj Ghat in Delhi and paid his respects to Mahatma Gandhi.
Shri Jagdeep Dhankhar was elected as the 14th Vice President of India on 06 August 2022 as he defeated joint Opposition candidate Mrs. Margaret Alva. Shri Dhankhar, a former governor of West Bengal, secured 528 votes while Mrs. Alva got 182. While the Electoral College comprises 788 members, due to eight vacancies in Rajya Sabha, the present strength is 780. The Trinamool Congress had abstained from voting.
Shri Jagdeep Dhankhar, 71, will succeed Shri M Venkaiah Naidu as Vice President of India whose tenure ends on August 10. He will take oath on August 11. After the results were announced, celebrations had started outside the residence of Parliamentary Affairs Minister Shri Pralhad Joshi where Shri Dhankhar was present. Joyous scenes were also reported from Rajasthan's Jhunjhunu, the hometown of Shri Dhankhar.
Shri Dhankhar, a lawyer by training who hails from Rajasthan, began his political career when he was elected to the Lok Sabha from Jhunjhunu in 1989. He was a Union deputy minister briefly from April-November 1990. He was in-charge of Parliamentary Affairs. He then shifted to state politics and won his next election for the Rajasthan Assembly. He represented Kishangarh seat from 1993 to 1998. After that, he practiced as a lawyer in the Supreme Court until he was appointed the Governor of West Bengal in July 2019.
Soon after the announcement of the result, Prime Minister Shri Narendra Modi and BJP National President Shri JP Nadda met Shri Dhankhar and congratulated him. Many senior leaders including the Hon'ble President of India also congratulated Shri Dhankhar over his victory.
Hon'ble President Smt. Droupadi Murmu in her message said, "Congratulations to Jagdeep Dhankhar on being elected the Vice President of India. The nation would benefit from his long and rich experience in public life. My best wishes for a productive and successful tenure," she said.
Outgoing Vice-President Shri M Venkaiah Naidu said, "The nation would greatly benefit from Shri Dhankhar's vast experience and legal expertise. My best wishes for a successful and fruitful tenure," he said.
Prime Minister Shri Narendra Modi in his message said, "At a time when India is marking 'Azadi Ka Amrit Mahotsav', we are proud to have a Kisan Putra as Vice-President who has excellent legal knowledge and intellectual prowess… I am confident he will be an outstanding Vice-President. He had received resounding support across party lines. Our nation will gain tremendously from his intellect and wisdom."
BJP National President Shri Jagat Prakash Nadda too greeted the newly elected Vice-President. In his message Shri Nadda said, "Congratulations Shri @jdhankhar1 ji on being elected as the 14th Vice President of the country. It is a proud moment for the country to have the son of a farmer as the Vice President. I am sure, your tenure will take the pride of the country to new heights".
Defence Minister Shri Rajnath Singh stated, "His long public life, wide experience and great awareness of people's issues would undoubtedly benefit the nation. He will be a fantastic Vice-President and Rajya Sabha Chairman. Congratulations!"
Union Home Minister Shri Amit Shah congratulated Shri Dhankar and said he would prove to be a superb Constitutional protector. "I have no doubt that Dhankhar ji would prove to be an excellent steward of the Constitution in his roles as Vice President and chairman of the Rajya Sabha. My congratulations. I also want to thank the NDA allies, other parties, and leaders for supporting Dhankhar Ji under Shri Modi ji's leadership".
LIFE SKETCH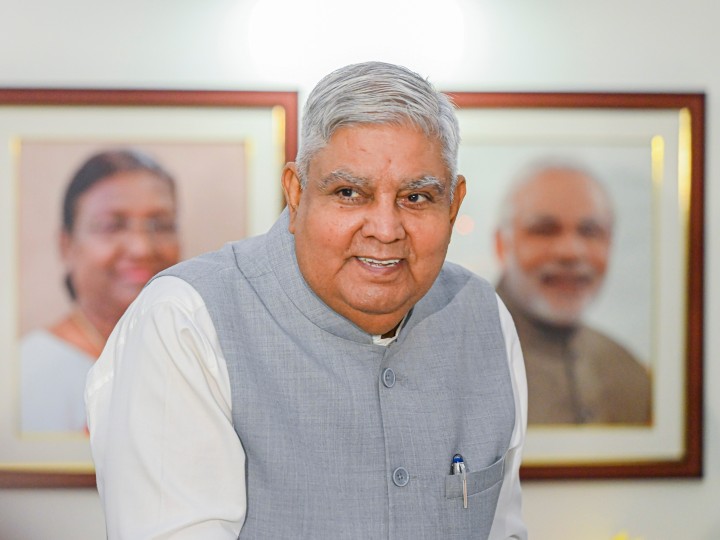 1951- Shri Jagdeep Dhankhar was born on 18 May, 1951 to Shri Gokal Chand and Smt. Kesari Devi in Kithana, a small village in Jhunjhunu in the State of Rajasthan. He completed his school education from Sainik School, Chittorgarh and then graduated in B.Sc and LLB from the University of Rajasthan, Jaipur.
1979- He married Smt. Sudesh Dhankhar in 1979 and they have a daughter.
1989- He has been a member of Janata Dal and Congress party in the past and was a MP of Janata Dal representing Jhunjhunu in Rajasthan during 1989–91 in the 9th Lok Sabha.
1991– He joined Congress in 1991 and was elected as a MLA from Kishangarh during 1993–98.
2003- He joined the BJP in 2003 and was a member of 2008 Assembly Election campaign committee of BJP.
2016- He headed the BJP's Law and Legal Affairs department.
2019- Assumed the charge of West Bengal Governor on 30 July, 2019.
2022- He resigned as Governor on 17 July, 2022 after being nominated as the vice-presidential candidate of the BJP led NDA.
2022- On 6 August, 2022, Shri Dhankar emerged victorious in the vice-presidential election by securing 528 votes out of the 725 MP votes.