The Union Home and Cooperation Minister, Shri Amit Shah attended the 53rd Raising Day celebrations of the Central Industrial Security Force (CISF) in Ghaziabad today as the Chief Guest. On this occasion, the Union Home Minister took the salute and presented medals to officers and Jawans of CISF for gallantry and outstanding services.
Shri Amit Shah also released the Force's magazine 'Sentinel'-2022. Union Home Secretary, Director General of Central Industrial Security Force, Director General of Central Armed Police Forces, senior officers of Government of India and officers and Jawans of CISF also attended the function.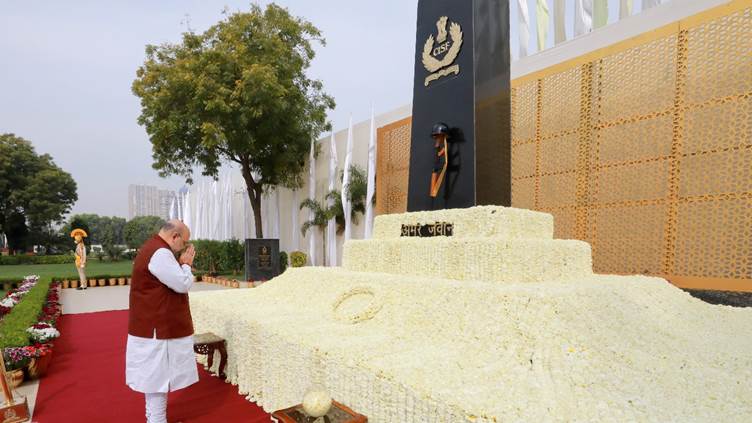 In his address, the Union Home and Cooperation Minister, Shri Amit said that in view of the 52-year history of the Central Industrial Security Force, today is a very important day for the overall industrial development of the entire country. Shri Amit Shah said that CISF has contributed like a silent karma yogi in the developmental journey of our economy of $ 2.5 trillion and our journey to an economy of $ 2.5 trillion could not have been possible without CISF. Shri Shah said when the CISF was established, it was envisioned that India's journey of industrial development and production would require a force that could run production smoothly and safely, CISF has left no stone unturned in realizing that vision and for this I would like to extend my warm wishes and congratulations to all the personnel of the force from Jawans to the Director General.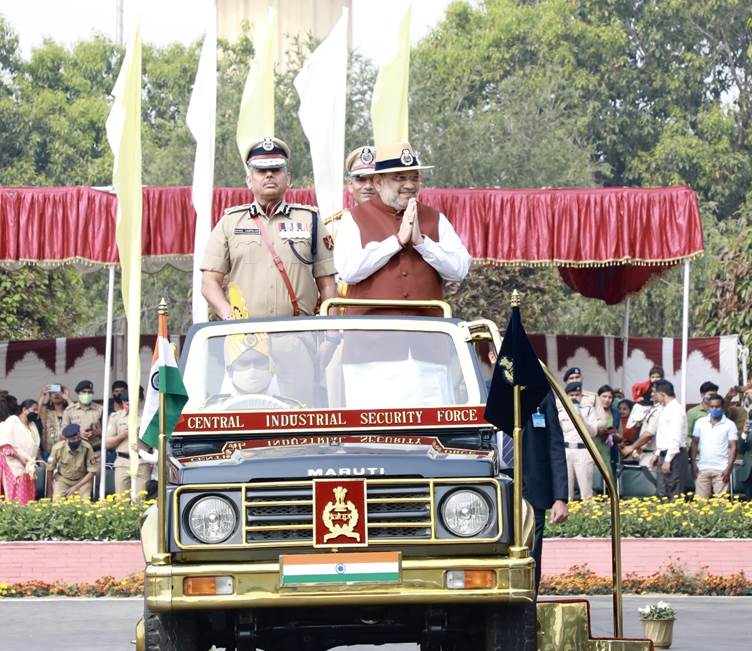 Shri Amit Shah said that every CISF jawan used to welcome fellow citizens with great humility and love at every airport when Indians from around the world were returning home during the COVID-19 pandemic and Vande Bharat Abhiyan. In the line of duty, many Jawans of the Force were also infected and lost their lives. I want to pay tributes on behalf of the nation and the entire Force to the frontline workers of Vande Bharat and all personnel who lost their lives to keep the country's industrial production running smoothly. "Operation Ganga" is ongoing and CISF personnel are welcoming our students returning from Ukraine. He said that CISF has left no stone unturned in fulfilling its objective. CISF has carved a niche for itself with multi-skilled, multi-faceted and professional prowess and I can say without any hesitation that the Central Industrial Security Force is the only industrial security force in the whole world, which is composed of government personnel and which is very efficiently  discharging their duty.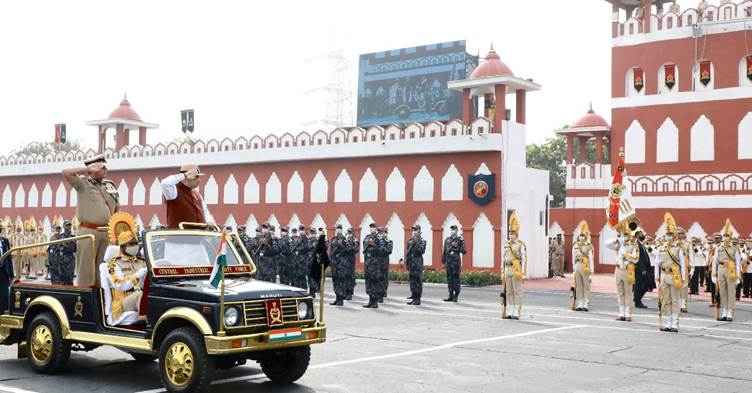 The Union Home and Cooperation Minister said that the numerous medals and awards received by the CISF are testimony to the commitment and valour of the personnel of the Force. CISF is present in 354 sensitive and critical installations with a strength of about 1,64,000 and more than 65 sensitive airports, seaports, nuclear units, space institutes, coal, oil and steel production sites and also offshore oil production plants. Shri Amit Shah said that it is very commendable that CISF has been given the responsibility of security at sensitive and important national and international airports in the country for almost the last 22 years. In a short time, the scope of their responsibility is going to widen.
Shri Amit Shah said that when the Metro was started in the country, the responsibility of its security was also entrusted to the Central Industrial Security Force and this was the time when there were blasts in the London Metro. But I want to congratulate CISF, it has played a big role in running Delhi Metro very smoothly. The Home Minister said that CISF is the only force among all CAPFs in which we can increase the number of women personnel because whether it is airports or metros, every day you have to increase the convenience of the 50 percent women passengers. I would like to say today to the Director General of CISF that by special thinking and special efforts in this direction, the ratio of women personnel in CISF, which is currently 94:6 to 80:20. Mr. Amit Shah said that in whether it is security of Jammu and Kashmir or the Maoist affected area, wherever the CISF is deployed, despite being an industrial security force and despite the lack of training for such work, CISF personnel have worked very well and have also demonstrated valour many times.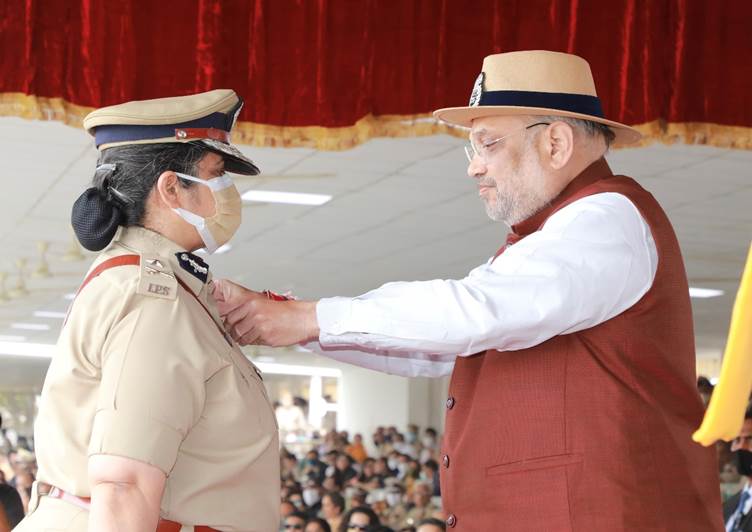 The Union Home and Cooperation Minister said that this is the year of Amrit Mahotsav of our Freedom. 75 years of Independence are the years of achievements for any country. The Prime Minister, Shri Narendra Modi, has decided that in this Amrit Mahotsav of Independence, in addition to acquainting the younger generation with the brave heroes who sacrificed their lives and lost everything to get Freedom, it is also the year to make a resolution about where the country will be when it  celebrates the Centenary of its Independence. Prime Minister Shri Narendra Modi has placed the journey of the nation from 75 years to 100 years before the people as our Amrit Kaal. The resolve we will show in these 25 years, will make it a journey of fulfilment of the resolve  and hard work.
Shri Amit Shah said that CISF will also face  many new situations. In the journey from a US $ 2.5 trillion economy to a US $ 5 trillion economy, many big units will be set up in the private sector and in the manufacturing sector. There is also going to be more private industrial production in the defense sector, in space and in every sector, including drones. Taking forward the goal of making the country self-reliant by Prime Minister Shri Narendra Modi, CISF should prepare a 5-year roadmap in which we prepare CISF for the next 25 years. A  roadmap of 25-years should also be prepared, Through this, let us make CISF a result oriented organization by equipping it in the year of  its Centenary. He said private security work is increasing very rapidly in the country, the government has also made laws and rules for this. Can CISF take the responsibility of their training. Can CISF also take responsibility of training of private security agencies for guarding industrial units. Shri Amit Shah said that some models can be worked out like production units with 1,000 personnel, production units with 5,000 and 10,000 personnel. Also specially curated security models, keeping in mind the need of some selected areas can be developed. Through such work, the efficiency of private agencies will also have to be increased because CISF alone cannot ensure the security of the industrial sector of the entire country.
The Union Home Minister said we should create a hybrid model whose strategy is made by CISF, but in which both private security agencies and CISF provide security by preparing a complete blueprint of security in hybrid mode and gradually hand it over  to private security agencies. Private security agencies should also  work in some industrial units, CISF should also increase its approach in this area in an aggressive manner. He said that the danger of drones in our frontier areas and industrial units in the seas appears to be increasing. Keeping this in mind, CISF should work in collaboration with institutions like DRDO and BSF, which are working  to develop anti-drone models and anti-drone technology.  We will have to move forward in this direction to enable CISF  to utilise anti-drone units in industrial security and to protect industrial manufacturing units.
Shri Amit Shah said that CISF is a first responder, hence agility, zeal and dedication towards their cause will have to be made an important part of training. Along with this, a model of a cyber-physical system will also have to be prepared. Congratulating the CISF for 100 percent implementation of Ayushman CAPF scheme in the CISF, the Union Home Minister said that along with this emphasis should also be laid on improving the housing ratio and other work of welfare of Jawans. Shri Shah said that CISF has done a great job by planting more trees than its target in 2020 and 2021 under the tree plantation drive.
He said that today I want to once again say to all the CISF Jawans that industrial security and industrial production of the country is not possible peacefully without you. Therefore, we also have to recognize the challenges of the coming times and prepare ourselves for it. Keeping this in mind CISF will have to set its goals. 5 Year Action Plan to prepare a base and 25 Year Action Plan to keep pace with the growing economy of the country, led by Prime Minister Shri Narendra Modi we have to prepare both of these, this year. The Union Home and Cooperation Minister said that the country and the world connected with the economy of the country are proud of CISF and we heartily appreciate your services.