A delegation of Bharatiya Postal Employees Federation called on Union Minister of State (Independent Charge) Science & Technology; Minister of State (Independent Charge) Earth Sciences; MoS PMO, Personnel, Public Grievances, Pensions, Atomic Energy and Space, Dr Jitendra Singh in New Delhi today and hailed the employee-friendly budget presented by the Modi Government.
The delegation also expressed happiness over announcements made in General Budget 2023-24 for taking care of every section of society including the middle class which comprises large number of govt employees.
The delegation gave a memorandum to the Union Minister Dr. Jitendra Singh, requesting his intervention in some of their service matters including timely promotions of Postal Service employees.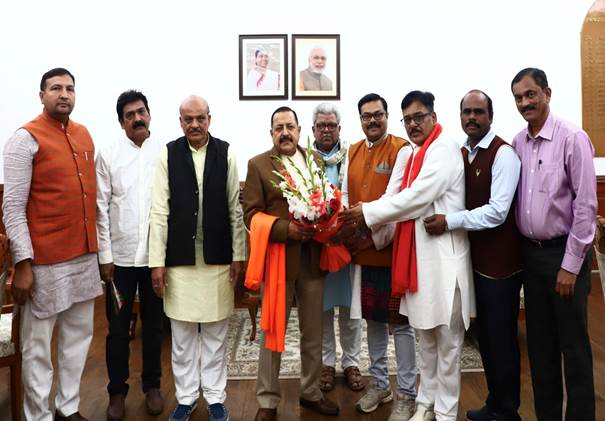 It may be recalled here that in July last year, en-masse promotions of 8,000 government employees were done by DoPT in one go, removing decades-long stagnation. Orders for mass promotion of these employees belonging to the Central Secretariat Service (CSS), Central Secretariat Stenographers' Service (CSSS) and Central Secretariat Clerical Service (CSCS) were issued after several rounds of high-level meetings in DoPT chaired by Dr. Jitendra Singh. Dr Jitendra Singh, at that time, had mentioned that it was disheartening to see government employees attaining retirement from service without getting one's due promotion and had thanked Prime Minister Shri Narendra Modi for this kind decision.
Of the total of 8,089 promoted employees, 4,734 were from CSS, 2,966 from CSSS and 389 from CSCS. The Minister had also held several rounds of meetings with delegations of Central Secretariat officials to thrash out the issue, as he considered that these three services – CSS, CSSS and CSCS form the backbone of the central secretariat administrative functioning.
Dr. Jitendra Singh told the Postal Service delegation that their concerns will be looked into sympathetically and tried to address appropriately.
One of the main issues raised during the meeting by the delegation was denial of benefit of 3% increment under pay fixation rule, if an employee gets regular promotion after MACP.