Union Minister of State (Independent Charge) Science & Technology; Minister of State (Independent Charge) Earth Sciences; MoS PMO, Personnel, Public Grievances, Pensions, Atomic Energy and Space, Dr Jitendra Singh today called for promoting sustainable and viable Start-ups by roping in Industry in the fast emerging field of Bio-technology Sector.
After two-day comprehensive review of 14 Autonomous Institutions of the Department of Biotechnology, Dr Jitendra Singh underlined the need for Inter as well as Intra collaboration among the frontier DBT institutes for cutting-edge and translation research for the overall benefit of society and the country.
Dr Jitendra Singh also asked the Autonomous Institutes to focus on one or two key areas of research and aspire to achieve the global standards. He also hailed most of the Institutes towards fighting the COVID-19 pandemic and the research for development of vaccines and other protocols in New Delhi.
Dr Jitendra Singh asked the National Brain Research Centre (NBRC), Manesar, Haryana, which promotes translational research with a mission to 'discover rationale therapies and cures for brain disorders' that the Centre should take Special Intervention Study on Alzheimer, which could be of world class. Similarly, he asked Translational Health Science and Technology Institute (THSTI), Faridabad to undertake more translational studies in post COVID era for pursuing grand challenges in public health to produce affordable technologies through group excellence. The Minister asked inStem to promote basic and translational work in stem cells and regenerative medicine and also emphasized that this is an important and cutting-edge area of biotechnology and suggested that inStem should engage and connect with hospitals in other parts of India, as it has through CSCR at CMC Vellore.
In the AGM meeting of National Institute of Animal Biotechnology (NAIB), Hyderabad, the Director informed that the institute has recently initiated "One Health Programme" focusing on 10 zoonotic diseases and the institute has also established a "Vaccine testing center" with support from PMCares fund for the testing of COVID-19 and veterinary vaccines.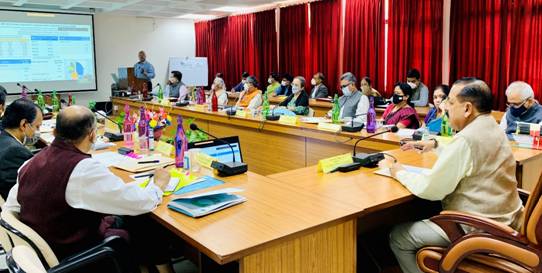 Director National Center for Cell science (NCCS), Pune in the AGM meeting informed the chair that MANAV and Microbiome initiative are the two flagship programmes that are being implemented. NCCS has supplied more than 55,000 cell cultures to 550 organizations.
Director NABI Mohali made a presentation on the mandate and achievements of NABI Mohali. The highlights being development of high level of resistant starch wheat lines that could potentially be useful in the management of life style disorders, banana with 20-fold increase in pro vitamin-A, multiple line lines of colored wheat lines that were transferred to multiple companies. The Minster appreciated the initiatives made by NABI and reiterated the importance of start-up companies from an early stage to facilitate innovation and translation.
Director NIBMG, Kalyani informed that NIBMG is the only institute in India exclusively devoted to genomics of human health and disease. It has world class facilities which are being used for conducting cutting edge research on major cancers and other chronic and infectious diseases predominant in India.
Heads and Directors of Rajiv Gandhi Centre for Biotechnology (RGCB), Thiruvananthapuram, Centre for DNA Fingerprinting & Diagnostics, (CDFD), Hyderabad, Institute of Life Sciences (ILS), Bhubaneswar, National Institute for Plant Genome Research, (NIPGR), New Delhi, Institute of Bioresources& Sustainable Development (IBSD), Imphal National Institute of Immunology (NII), New Delhi, National Agri-Food Biotechnology Institute (NABI), Mohali, Punjab, Center of Innovative and Applied Bioprocessing (CIAB), Mohali, Punjab, National Brain Research Centre (NBRC), Manesar, Haryana, Translational Health Science and Technology Institute (THSTI), Faridabad. National Centre for Cell Science (NCCS), Pune, National Institute of Animal Biotechnology (NIAB), Hyderabad, Institute for Stem Cell Biology and Regenerative Medicine (InStem), Bangalore, National Institute of Bio Medical Genomics(NIBMG), Kalyani took part in the review meeting.