The Union Minister of Health and Family Welfare, Dr. Mansukh Mandaviya addressed the 76th session of the World Health Organization Regional Committee for South-East Asia, here today. He was joined by Dr. Tedros Adhanom Ghebreyesus, Director-General, World Health Organization (WHO) who was present virtually. Dr. Mandaviya was also unanimously elected as Chairperson of the 76th session of the regional committee of South-East Asia.
Dr. Poonam Khetrapal Singh, Director, WHO SEARO (Regional Office for South-East Asia) Mr. Ahmed Naseem, Minister of Health, Maldives; Dr. Elia Antonio de Araujo Dos Reis Amaral, Health Minister, Timor Leste; Dr. Seetha Arambepola, Health Minister of Sri Lanka, Mr. Mohan Bahadur Basnet, Health Minister of Nepal,  Mr. Choe Hui Chol, Ambassador to India, Democratic People's Republic of Korea, Mr. Zahid Maleque, Health Minister, Bangladesh, Dr. Pongsadhorn Pokpermdee, Dr. Syarifah Liza Munira, Director General for Health, Ministry of Health, Indonesia and Mr. Pemba Wangchuk, Acting Secretary, Ministry of Health, Bhutan were also present.
Reiterating the vision of the Prime Minister Shri Narendra Modi, the Union Health Minister stated "health is the ultimate wealth and with good heath, every task can be accomplished." He emphasized "In India we are following a holistic and inclusive approach. We are expanding health infrastructure, promoting traditional systems of medicine and providing affordable healthcare to all in alignment with the vison of Universal Health Coverage with the resolute commitment of leaving no one behind."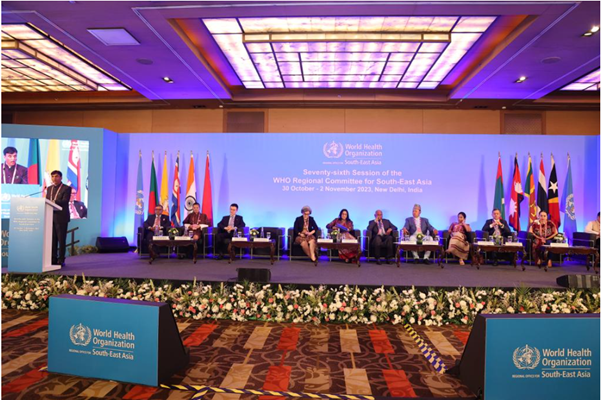 Addressing the gathering, Dr. Mandaviya lauded the progress of Ayushman Bharat Health and Wellness Centres (AB-HWC) which have played an instrumental role in providing a comprehensive array of primary healthcare services. He cited "As of October 24, 2023, AB-HWCs have recorded over 2,110 million footfalls. The impact is resounding with individuals availing free drugs over 1,830 million times and diagnostic services over 873 million times". He further added "26 million wellness sessions have been conducted engaging more than 306 million people."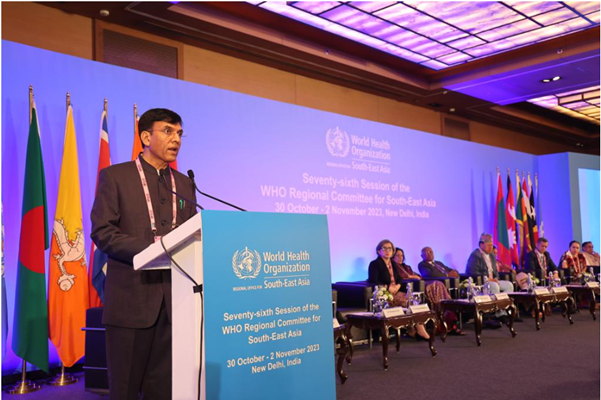 Dr. Mandaviya noted that initiatives such as Ayushman Bharat Digital Mission and PM-ABHIM have substantially strengthened the digital health framework and physical infrastructure, catalyzing a revolutionary evolution of the health care delivery in the nation. The Union Health Minister highlighted that "our current focus on primary health centres through AB-HWC emulating a synergistic approach will result in immeasurably positive health outcomes and reductions in out-of-pocket expenditures and become a model for other countries engaged in health sector reforms."
Dr. Mandaviya also addressed the gathering at the tree plantation ceremony taking place at the WHO SEARO Building site, IP Estate, New Delhi stating "The WHO SEARO building stands as a symbol of collaborative effort of India and WHO to address the global challenges with the objective of ensuring inclusive and equitable development of healthcare services in the South-East region." The Union Health Minister noted India's contribution fund of Rs. 239.5 crores to facilitate the successful completion of this grand project awarded to National Building Construction Corporation (NBCC), envisions a hub for collaboration, research and knowledge exchange among health professionals for addressing regional health challenges, sharing best practices and developing innovative solutions.
Union Health Secretary, Shri Sudhansh Pant highlighted that the establishment of the South-East Asia Regional Forum for primary health care (PHC)-oriented Health Systems marked a pivotal moment in our commitment to fostering knowledge sharing and collaborative support in addressing challenges hindering PHC strengthening. Lauding the progress of member states in embracing PHC-oriented health systems, he further reflected "focused attention is now required in key areas of enhancing capacities for progress tracking and accountability, institutionalizing participatory mechanisms in urban health care (UHC)/PHC governance, and fostering synergized support from WHO and partners tailored to national systems and contextual nuances."
Dr. Tedros Adhanom Ghebreyesus addressed the gathering virtually. He noted that the 76th Session of SEARO comes at a crucial time point in time, both globally and for the region. He highlighted that the South-East Asia region is home to more than a quarter of the world's population and must address a significant burden of disease. Commending the efforts of the region to combat tuberculosis, Dr. Tedros appreciated Dr. Mandaviya's leadership and commitment for 'Health for All'. He added that 7 of the 11 member countries of south east Asia region have eliminated at least of the neglected tropical diseases.
Lauding the progress and milestones achieved by the member countries in the region, Dr. Poonam commended India's achievement in operationalizing more than 1,50,000 Ayushman Bharat Health and Wellness Centres and also received the 2022 UN Interagency Task Force and WHO Special Programme on PHC award for its Hypertension Control Initiative, which has now treated more than 4 million people.
Shri Manasvi Kumar, Joint Secretary, Ministry of Health and Family Welfare, senior government officials, and World Health Organization representatives were present at the event.