The Union Health Minister, Dr. Mansukh Mandaviya delivered keynote address at One Earth One Health Advantage Healthcare India event in the presence of, Shri Sarbananda Sonowal, Union Minister, Ministry of AYUSH, Dr. Bharti Pravin Pawar, Minister of State, Ministry of Health and Family Welfare, Prof. S.P. Singh Bhagel, Minister of State, Ministry of Health and Family Welfare, Dr. Munjpara Mahendrabhai Kalubhai, Minister of State, Ministry of AYUSH, Dr. V.K Paul, Member, Niti Aayog, Dr. Tedros Adhanom Ghebreyesus, Director General, World Health Organization and Shri Rushikesh Patel, Gujarat Health Minister at Gandhinagar today.
Mr. Shah Mahir, Minister of State, Ministry of Health, Government of Maldives, Ms. Safiyya Mohamed Saeed, Deputy Minister of Health, Government of Maldives, Dr. Mohamed Hassan Mohamaed, Deputy Minister of Health, Government of Somalia, Mr. Mohan Bahadur Basnet, Minister of Health and Population, Federal Democratic Republic of Nepal and Hon. Dr. Keheliya Rambukwella, Minister of Health, Government of Sri Lanka were present at the event.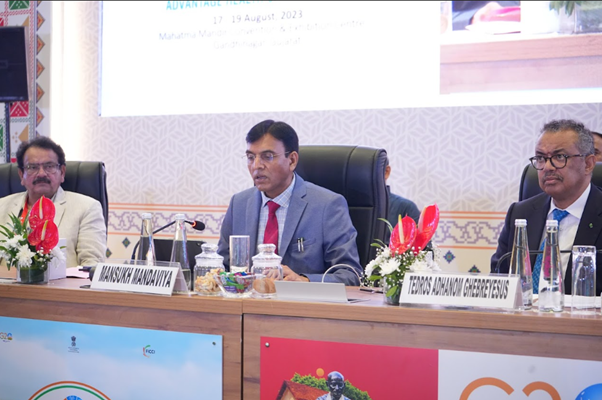 Lauding the Prime Minister, Shri Narendra Modi's vision of achieving Universal Health Coverage by imbibing the notions of Sarvodaya and Antyodaya, the Health Minister stated that India has made significant contributions to health globally as well as in its own nation in the fields of primary and digital healthcare. The Health Minister launched the 'The Advantage Health Care India – One Stop Digital Portal For Patient' and 'Workforce Mobility', stating "the launch of these two portals is not just a milestone for India, but a significant step towards fulfilling our global responsibilities. India has always been at the forefront of healthcare innovation." Dr. Mandaviya further added "Through these portals, we are offering a tangible solution to some of the most, pressing challenges in healthcare today."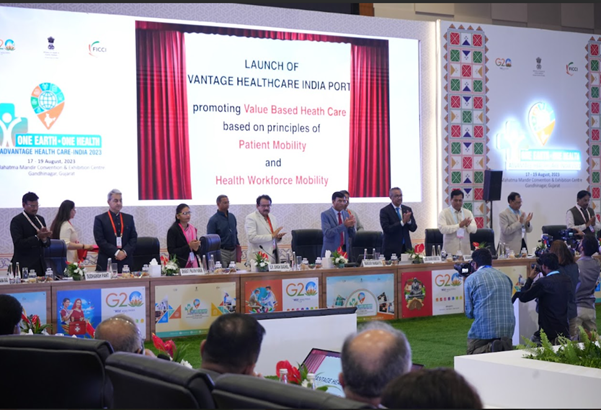 Elaborating on the Indian health system, the Health Minister cited that India today is supported by a workforce of 1.3 Million Allopathic Doctors, 800,000 AYUSH doctors and 3.4 Million Nurses & Auxiliary Nurse and Midwives. Through this highly qualified and skilful workforce, India plans to contribute to an organised system of workforce mobility, wherein India's healthcare professionals travel to different parts of the world, to serve the global community. Reiterating that health is perceived as a service in India, he highlighted that nation aspires to create a people-centric, value-based system of healthcare. Dr. Mandaviya emphasized that medical value travel will enable greater knowledge-sharing, sustainable partnerships and increased synergies contributing to building a stronger global health architecture. He said "We strive to build a more inclusive and equitable world where healthcare knows no boundaries and where skilled healthcare professionals can make a difference wherever they are. Our collective efforts will be towards creating a healthcare ecosystem that embraces the voice of every nation, every citizen and every being."
Praising the visionary leadership of Prime Minister, Shri Narendra Modi, Shri Sarbananda Sonowal noted that the theme of India G20 Presidency 'One Earth, One Family, One Future' incorporates medical value travel and health workforce mobility as an important facet in its pursuit to build resilient global healthcare systems. He further added "the preventive and promotive approach of our traditional health care systems has played a significant role in modern age today, particularly when global health was afflicted in recent times." The Union AYUSH Minister underscored the importance of implementing harmonized and coordinated strategies of traditional medicine through effective governance at international, regional, and national levels. He emphasized that "India being a soft power in the traditional system of medicine can play a pivotal role here in mitigation of these alarming changes in health care scenarios."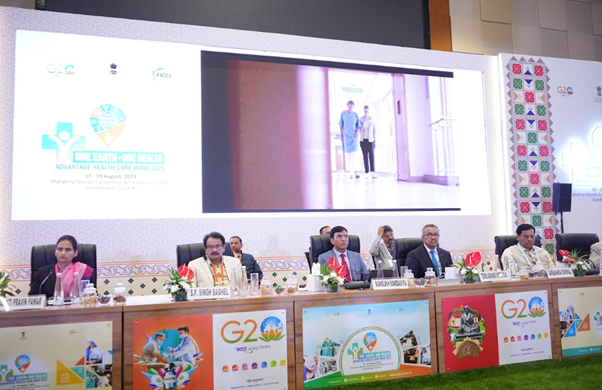 Dr. Bharti Pravin Pawar noted "In present times, the concept of health needs a holistic approach and India has the unique advantage of offering Traditional Healthcare Therapies or AYUSH treatments for the purpose of well-being to Medical Value Travellers from across the globe. She emphasized that "integration of traditional medicine and modern medicine is an essential aspect of achieving affordable and accessible healthcare for all, especially in remote areas."
Prof S P Singh Baghel underlined that "Universal health coverage is not limited within the territorial borders of the country. India holds the vision of One Earth One Heath we intent to provide health services to other country through Heal by India and to those visiting through Heal in India." The Minister of State further added "We must create synergies across the stakeholders – hospitals, medical facilitators, insurance companies, healthcare associations and government bodies to facilitate a global healthcare network, with patient well-being at its core."
Underscoring the importance of Value-Based Health care services supported by the framework of medical value travel, Shri Sudhansh Pant added "we must focus on a patient-centric health system to achieve several of our health priorities. An inclusive health system will be achieved when patients are empowered to choose from a comprehensive range of services, including medical consultation, treatment, post-operative treatment, and follow-up care cutting across geographic limitations."
Dr. Tedros Adhanom Ghebreyesus stated that Medical Value Travel can serve to complement countries in building their national capacities. Leveraging Medical Value Travel, countries can offer specialized resources and services that may not be available, affordable or accessible in other parts of the world. He further added Digital Health is a great asset as it enables patients to access medical healthcare services via telemedicine at platforms such as Ayushman Bharat Health and Wellness Centres. Digital Health bridges the gap of affordability rendering medical care to the innermost areas and to those patients who may not be able to afford the services.
Union Minister of Health and Family Welfare, Dr Mansukh Mandaviya held various bilateral meetings with European Union, Germany and Saudi Arabia today. The bilateral meetings provided an opportunity to reflect on areas of collaborations and shared priorities in pursuit of a healthier tomorrow.
The bilateral meeting with the European Union focused on exploring areas of collaboration in fortifying healthcare systems and enhancing capacities for disease surveillance and capacity building amongst other domains with a particular focus on Ayurveda Telemedicine; clinical trials and research in India for EU-based pharmaceutical companies, Medical Value Travel, and potential joint collaborative ventures in medical education and research. The way forward will focus on discussions on establishing minimum viable product, global initiative for digital health and medical counter measures.
The meeting with Saudi Arabia involved exchanging of experiences and best practices on regulatory requirements, Joint ventures, technology transfer especially in APIs, towards de-risking supply chains and boosting resilience therein. They also expressed interest in cooperation in pharmaceutical sector amongst Drug Regulators and in Pharmacopeia, enhancing Value-based Healthcare through Medical Value Travel, Promotion of Digital Public Goods and Cooperation in Digital Health and cooperation in Traditional Medicine and Yoga. There is an increasing focus on attracting investments, R&D, and collaboration in the form of joint ventures to reap benefits and realize the immense potential of the Indian Medical Devices industry. Futuristic aspirations include signing of Memorandum of Understanding in the field of health sector cooperation, recognition and acceptance of Indian Pharmacopeia (IP) including traditional medicines and proposing Letter of Intent in the field of Medical Value Travel.
Germany and India's meeting focused on Cooperation in Pharmaceutical sector/amongst Drug Regulators and in Pharmacopeia, ICMR & Federal Ministry of Education and Research, strengthening Value-based Healthcare through Medical Value Travel, cooperation in traditional medicine, promotion of digital public goods and cooperation in digital health. Future orientation will include cooperation under MoU between ICMR, & German Research Foundation, cooperation under Special arrangement between ICMR & Federal Ministry of Education and Research (BMBF), Germany Delhi under Indo-German S&T Agreement, revision in Minimum Viable Product, signing of Joint Declaration of Intent (JDI) between CDSCO and the Federal institute for Drug and Medical devices of the Federal Republic of Germany (BfarM) the Paul-Ehrlich-Institute of the Federal Republic of Germany (Pei) on cooperation in the field of medical products regulation.
Shri G. Kamala Vardhana Rao, CEO FSSAI, Shri Vishal Chauhan, Joint Secretary, Ministry of Health and Family Welfare, Smt. Aradhana Patnaik, Joint Secretary, Ministry of Health and Family Welfare, Shri Abhishek Singh, Joint Secretary, Ministry of External Affairs, government officials, representatives from more than 70 countries, including CIS, ASEAN, SAARC, Africa, and the Middle East regions and industry officials were also present at the event.