Union Minister for Health and Family Welfare, Dr. Mansukh Mandaviya inaugurated the maiden Global Food Regulators Summit 2023 in the presence of Union Minister for Agriculture and Farmer's Welfare Shri Narendra Tomar and special guest Minister of Agriculture and Livestock Development, Govt. of Nepal, Dr. Bedu Ram Bhusal, here today. Prof S P Singh Baghel and Dr Bharati Pravin Pawar, Union Ministers of State for Health and Family Welfare were also present on the occasion. This summit is an endeavour of the Food Safety and Standards Authority of India (FSSAI) under the aegis of the Ministry of Health and Family Welfare (MoHFW) to create a global platform of food regulators to exchange perspectives on strengthening food safety systems and regulatory framework across the food value chain.
Dr. Mandaviya stated that "Safe food and good health are complementary to each other.  Balanced, safe and nutritious food acts as preventive care, and ensures our health and wellness." Underlining the importance of food safety, he stated that "It is critically important to deep dive into issues of food grains, food safety, and food security for global sustainable development. Food regulators have a highly responsible job to create an eco system under the One Health approach which provides an integrated platform to collectively look at health of climate, human, animal and plant." He added that under the ongoing G20 India Presidency, One Health forms a key priority for the Health Working Group.
Highlighting the importance of international cooperation and solidarity for the greater good and welfare of the global community, Dr Mandaviya said, "This conference perfectly aligns with and complements the theme of this year's India's G20 Presidency: "Vasudev Kutumbhakam: One Earth, One Nation". He stated that as different geographical regions are characterised by agro-climatic diversities, no one standard could be applicable to food safety protocols. "We need to be explore how regional diversities can be factored into global best practises", he pointed out.
Dr Mandaviya elaborated on the aspect of soil health as a crucial determinant of food health, and outlined the salient features of the recently announced PM-PRANAM scheme which encourages a balanced use of chemicals and fertilizers in food cultivation, and encourages farmers to take up organic, natural and alternative farming. He urged all countries to work collectively in the spirit of Vasudhaiva Kutumbakam (the world is one family) as food shortage is a global problem requiring collaborative global solutions.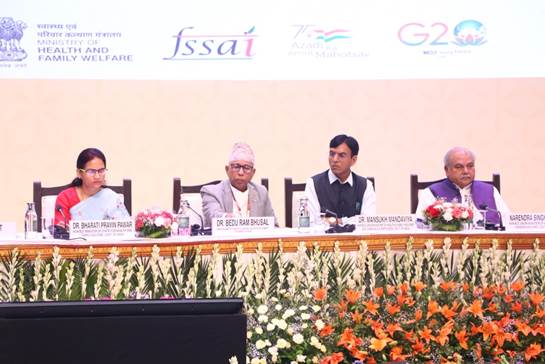 The guest of honour at the session, Shri Narendra Singh Tomar said that food is a basic right and its availability and affordability must be ensured. He also added, "Considering the size and volume of the agriculture sector and food industry in India, it is vital to consider the entire value chain network, from agricultural inputs until products reach the end- consumer, as a single entity to ensure food safety and security".
The Union Minister pointed out that farmers must always be at the heart of any policies regarding food supply so that they are not affected in any negative manner. He also made a strong case for promoting the use of millets by highlighting positive attributes of millets like its less water consumption compared to other crops, resilience to adverse climatic conditions and high nutritional value.
Through a recorded message, Dr Tedros Adhanom Ghebreyesus, WHO Director-General congratulated the Union Health Ministry and FSSAI for organizing this maiden global food regulators summit, through a video message. He said that "We must collectively ensure that everyone everywhere enjoys access to safe and nutritious food."
During the event, Dr. Mandaviya released Food-o-Copoeia, a collection of food category-wise monographs and a single point reference for all applicable standards for a specific product category detailing quality and food safety standards, labelling and claim requirements, packaging requirements, test methods and any other regulatory provisions as per the Food Safety and Standards Regulations (FSSRs) that need to be adhered to.
The Union Health Minister also launched the common regulators platform 'SaNGRAH' – Safe food for Nations: Global food Regulatory Authorities Handbook. It is a database of Food Regulatory Authorities of 76 countries across the world, their mandate, food safety ecosystem, food testing facilities, contact details for food authorities, SPS/ TBT/Codex/ WAHO etc. Apart from Hindi and English, SaNGRAH is also available in six regional languages – Gujarati, Marathi, Tamil, Telugu, Kannada and Malayalam.
A Common Digital Dashboard was also launched during the Summit by the Union Minister of Health and Family Welfare. The Dashboard is a common unified IT-portal that provides comprehensive information on standards, regulations, notifications, advisories, guidelines, contamination limits and the latest developments by Food Regulators in India.
Dr Mandaviya also inaugurated a two-day exhibition during the Global Food Regulator Summit 2023. This exhibition will provide an avenue for the exchange of ideas and information on food safety, food standards, food testing capabilities, product reformulation and advancement in food technologies. A total of 35 exhibitors including Food Business Operators (FBOs), Rapid Analytical Food Testing (RAFT) manufacturers and esteemed organizations like the Agricultural & Processed Food Products Export Development Authority (APEDA), Marine Products Export Development Authority (MPEDA), Export Inspection Council (EIC), Spice Board, Tea Board and Coffee Board will showcase their expertise and contributions to the field during the two days. The exhibition also showcases stalls on Shree Anna (millets).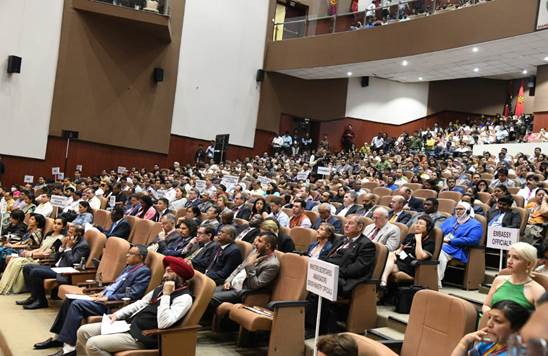 Shri Amitabh Kant, G20 Sherpa requested the gathering to utilize this platform for learning, strengthening networks to improve food safety and creating a mechanism for investing in food safety in a sustainable way. Recognizing the need to ensure resilient food supply, he stressed on the need to reduce food wastage, utilize digital tools for enhancing food supply and promoted the use of resilient food crops like millets.
As a special speaker of the inaugural session, Prof. Ajay Kumar Sood, Principal Scientific Advisor, Government of India urged the participants at the two day conclave to discuss the potential health hazards of plastic, nutraceuticals and metals in food supply and encouraged them to explore alternatives to single use plastics, promote circularity in food grade plastic production and use of sustainable material across supermarkets and take away services.
Shri G Kamala Vardhana Rao, CEO, FSSAI stated that safe and nutritious food is key to good health, while unsafe food causes 600 million infections and 4.2 lakh deaths every year. He hoped that this gathering will brainstorm on the critical aspects of food safety and bring out innovative solutions to ensure safe food supply.
The Global Food Regulators Summit 2023 brings together food regulators from around the world to exchange perspectives and knowledge on crucial issues related to food safety systems. The global summit will have various technical sessions focusing on topics such as the roles and responsibilities of global food regulators, challenges and solutions for global food safety, robust standard setting, innovation in food emergency response and more.
Shri Sudhansh Pant, OSD, Health Ministry; distinguished dignitaries from various countries, industry associations, representatives from food industry, research institutions and senior officials from MoHFW, other line ministries and FSSAI were present on the occasion.