Union Minister of Culture, Tourism, and Development of North Eastern Region (DoNER) Shri G. Kishan Reddy inaugurated a Photo Exhibition on 'Monuments of Victory & Valour ' at National Monuments Authority in New Delhi today in presence of Ministers of State for Culture Shri Arjun Ram Meghwal and Smt MeenakshiLekhi .
The exhibition on Monuments of Victory &Valour has been put up at the National Monuments Authority as part of 'Azadi Ka Amrit Mahotsav' being celebrated to commemorate 75 years of Independence.
NMA, Sh.Tarun Vijay along with other officials of Ministry of Culture and National Monuments Authority were also present during the inauguration event.
Photo exhibition of Monuments of Victory &Valourby the National Monuments Authority (NMA) has made an effort to highlight those who forged our civilizational ethos for thousands of years and vowed to protect our civilization heritage over the past 750 years of invasions and colonization. Accordingly, the  Exhibition showsphotos of resistance and valour across millennia. This includes photos of the Kakaitya Kala Thoranam at Warangal, the fort of Jhansi Laxmi Bhai that symbolises her valour against the British in the war of independence in 1857 and the VijayaStambh in Chittorgarh that commemorates the victory over the sultanates led by Mahmud Khilji.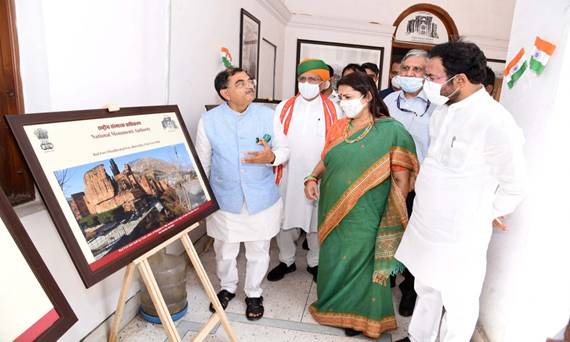 Addressing the media after a detailed tour of the exhibition, Shri G. Kishan Reddy said that today is a landmark day for 130 crore Indians as today we have completed 74 years of independence and moving into 75th year. Further he emphasized that government via various institutions is working towards bringing out real history of the country before the public and this exhibition on valor monuments  is a step towards that goal.Shri G. Kishan Reddy also highlighted the importance of knowing country's art , culture , civilization values and said that Ministry of Culture under the leadership of Prime minister is working towards that aim.
Shri G Kishan Reddy said "Our history is replete with stories of valour and bravery that have either not seen the light of the day or have been grossly misrepresented by colonial thinking. These gross misrepresentations in our nation's history will be corrected".
The Minister also said "While large parts of India was celebrating Independence Day in 15th August 1947, the Nizam region had to wait another 1 year, 1 month and 1 day till September 17th, 1948 when it was liberated by Sardar Patel".
"The Nizam'sRazakar Army went about looting villages and molesting women and shot at people who tried to hoist the national flag, but this story has been suppressed and is hardly spoken about. These stories will also be brought to light now" he added. Shri Kishan Reddy emphasized on the importance of telling the youth of the country about such events of history. He said "The youth should be aware of the scarifies made by people in the course of history".
Shri Kishan Reddy requested the media to also support the government's initiative of propagating the message of oneness and the Prime Minister's vision as highlighted in his Independence speech  of envisioning an India 25 years from now. India should be a strong India in terms of culture, economy, it should be free from corruption in the year 2047 when it completes 100 years of independence, he added.
The Minister also highlighted the importance of involving people in the programmes of the government and said that "cultural programmes should be organised but people should also be  involved in them"
Throwing light on the importance of preserving the monuments, Shri Arjun Ram Meghwalpointed to preservation efforts needed for victory tower in Chittorgarh. He also highlighted the importance of showcasing the events of history in right manner in our history books and newspapers and asked institutions involved to take note of it. Remembering the courage and valor of MaharanaPratap Singh, he said "the stories of valor should also be highlighted and there needs to be a correction".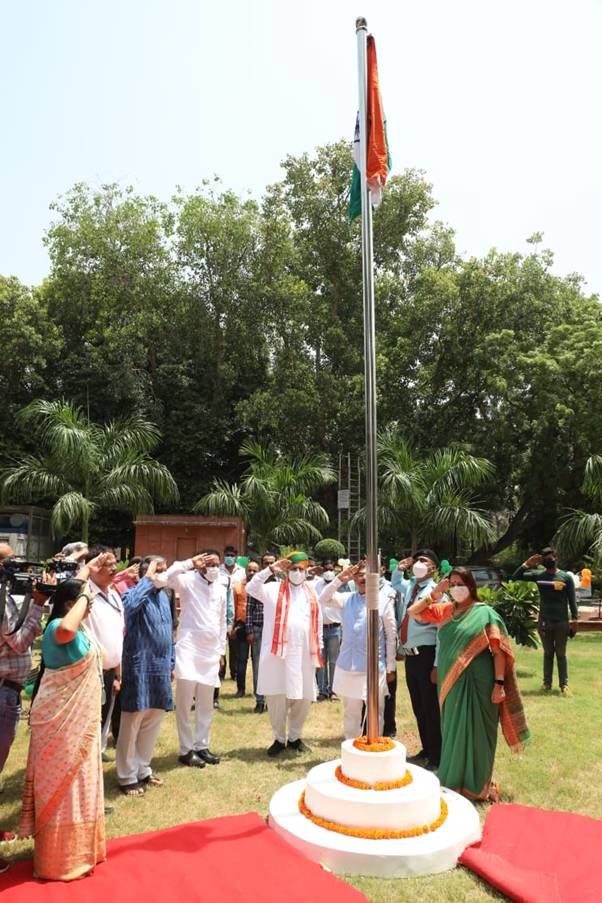 Smt Meenakshi Lekhi said that people are not aware of complete history.She highlighted the fact that today very few people know about king Ananpal of Delhi and the importance of Mehrauli. She also added that country's history has been tweaked and there is a need to know the truth about history. She said in the time of Amrit Mahotsav, there is need for samudramanthan so that amrit of truth can come out.
The event was interspersed with poets from the KaviSammelan reciting some of their poetry.