Reiterating Prime Minister's vision that not only will green hydrogen be the basis of green growth through green jobs but it will also set an example for the world towards clean energy transition, "Addressing the nation from the ramparts of the historic Red Fort in Delhi, Hon'ble Prime Minister announced self-reliance in energy production through a mix of electric mobility, gas-based economy and taking Green Hydrogen on Mission mode," said Union Minister of Petroleum & Natural Gas and Housing & Urban Affairs Shri Hardeep Singh Puri, addressing on the occasion of flagging-off 1st Green Hydrogen Fuel Cell Bus from Kartavya Path, New Delhi. Shri Rameswar Teli, Minister of State for Petroleum and Natural Gas & Labour and Employment; Shri Pankaj Jain, Secretary, MoP&NG, Shri S M Vaidya, Chairman, IndianOil were also present on the occasion.
Flagging-off the first Hydrogen cell bus in presence of young school children, officials and media persons, Shri Hardeep Singh Puri explained the concept of Hydrogen and the benefits of using it as the fuel for future, "The fuel cell utilizes Hydrogen and air to generate electricity to power the bus and the only by-product from the bus is water therefore making it possibly the most environmentally friendly mode of transportation as compared to conventional buses that run on diesel and petrol. With three times the energy density and the absence of harmful emissions, hydrogen shines as a cleaner, more efficient choice to meet the energy requirements." Additionally, the buses powered with hydrogen cells takes few minutes to fully charge itself, added Shri Puri.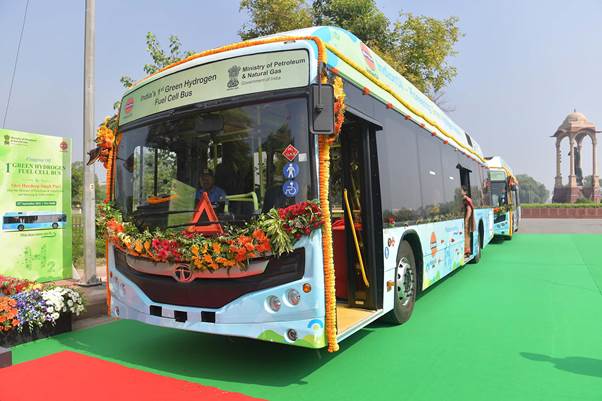 Speaking about the Government's ambitious plans on clean and green energy, Shri Hardeep Singh Puri said that emerging fuels like hydrogen and bio-fuels shall account for 25% of global incremental energy demand growth over the next two decades. "With one of the largest synchronous grids in the world, we have achieved 'One Nation-One Grid-One Frequency', and would soon be global champion in production and exports of Hydrogen and is set to emerge as the Hub for green hydrogen", he added.
Complimenting Industry and Government's collaboration in taking India on a global platform and ensuring that it becomes a global hub for cleaner technologies and achieving self-reliance in energy soon, "We were privy to the launch of the world's first BS 6 (Stage II) Electrified Flex Fuel vehicle prototype that encompasses both the flex fuel engine as well as an electric powertrain that offers higher use of ethanol combined with better fuel efficiencies. Now with flagging-off the first two hydrogen cell buses, we have set the ball rolling and expect another 15 such buses to ply on Delhi NCR roads by the end of this year", stated the Petroleum Minister.
Marking the green hydrogen powered buses as a game changer for the city transport in the Country, Shri Hardeep Singh Puri complimented IndianOil for undertaking this collaborative approach along with Tata Motors for development of indigenous solutions pertaining to Fuel Cell and hydrogen infrastructure in the country. "Success of this project can catapult India from being net importer of fossil energy to becoming net exporter of clean hydrogen energy", added Shri Puri.
Speaking on the occasion, Shri Rameshwar Teli said, "The Green Hydrogen Mission which aims to establish a Green Hydrogen ecosystem in India, is on a developmental and progressive path. Hydrogen will be a key player in the transition to a carbon-free economy and will help mitigate climate change. Today's launch will certainly revolutionize India's firm commitment of being a cleaner and greener nation."
Addressing the gathering Shri Pankaj Jain, Secretary, MoP&NG said that we are at a crucial inflection point of technology and mobility. "Today's flag off of Green Hydrogen bus is a symbol of how mobility will transform and how India will move away from conventional fuels. My compliments to IndianOil for this revolutionary foray in hydrogen". He also encouraged school children to be inquisitive about new green technologies and learn about how these technologies will move us away from internal combustion engines.
Earlier in the day, welcoming the dignitaries, Shri S M Vaidya, Chairman, IndianOil said that Hydrogen, is poised to be game changer in India's ambitious quest to achieve Net-Zero emissions by the year 2070. "In-line with Hon'ble Prime Minister's vision for National Green Hydrogen Mission, today's flag-off of green hydrogen fuel cell buses is a testament to IndianOil's steadfast commitment towards devising sustainable solutions for greening the Mobility sector. With the active support from Govt. of India and Ministry of Petroleum & Natural Gas, this milestone marks a pivotal stride in nation's journey towards zero emission mobility.   Under this program, 15 fuel cell buses will be plying on specified routes in the Delhi NCR Region to establish the performance data under Indian operating conditions. These 15 buses shall cover a cumulative 3 lakh kilometres to establish the efficacy, efficiency and sustainability of the complete value chain."