Ministry of Ayush has launched a special edition of official research publication of Central Council for Research in Ayurvedic Sciences (CCRAS), Journal of Research in Ayurvedic Sciences (JRAS) focused on "Impact of Mann ki Baat on Ayush Sector". Minister of Ayush and Ports, Shipping & Waterways Shri Sarbananda Sonowal today launched the special edition of journal in the presence of Vaidya Rajesh Kotecha, Secretary, of Ayush and senior officials of the Ministry.
In his address, Shri Sarbananda Sonowal said,  "Prime Minister's "Mann ki Baat" conversations have been instrumental in giving a positive trust to Ayush. With its innovative and unique interactive style of presentation, the radio program has carved out a niche for itself and has become popular among communities. The content of this special edition of the journal has taken inspiration from various thoughts of our PM on Ayush sector."
Ayush has been mentioned in about 37 of the "Mann Ki Baat" episodes. The Prime Minister had urged citizens to adopt a healthy lifestyle, practice yoga, and adopt evidence based Ayurveda and imbibe Ayurveda way of life into their lifestyle. As a result of the Prime Minister's efforts to promote the Ayush sector, there has been increase in awareness about the benefits of traditional Indian systems of medicine, not only in India but also globally.
The content of the special edition of journal is inspired by various conversations of Hon'ble Prime Minister Shri Narendra Modi on Ayush systems during the last 9 years. It highlights the impact of "Mann ki Baat" on Ayush sector and how Ayush is becoming a fundamental pillar of the country's national health policy and health interventions.  A total of 24 articles of renowned experts are included on 7 potential areas i.e. Policy & Public Health, Science & Evidence, Health Education & Awareness, Yoga & Swasthavritta (Lifestyle, Exercise, Food, Nutrition), War against Corona, Industry & Academia Collaboration and Globalization & International Cooperation.
The special edition includes special message from Minister of Ayush Shri Sarbananda Sonowal, Minister of State for Ayush Dr. Munjapara Mahendrabhai. Vaidya Rajesh Kotecha, secretary, Ministry of Ayush, eminent authors from academia (like Dr BN Gangadhar, NMC and former Director NIMHANS), Industry (Like Acharya Balkrishna of Patanjali, Dr C K Katiyar of Emami), Research (Dr Viswajanani Sattigeri of CSIR-TKDL), Clinicians, experts (Dr Rajendra A Badwe, Director, Tata Memorial Centre, Mumbai), Biotechnology experts (Kalpana Joshi, Professor and Head Biotechnology, Savitribhai Phule Pune University), International experts and stakeholders (from Germany, Sweden and USA) have contributed in this edition.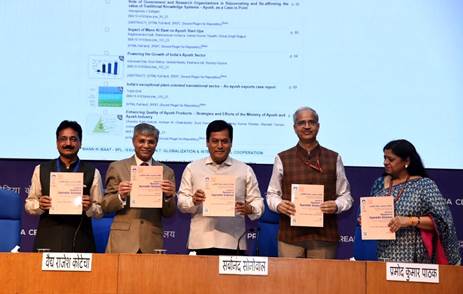 Journal of Research in Ayurvedic Sciences (JRAS) is a peer-reviewed, open access, UGC-CARE listed official publication of Central Council for Research in Ayurvedic Sciences (CCRAS), New Delhi. The Journal is published quarterly and is available in both print and online forms. It is a multidisciplinary platform for publication of research in Ayurveda, Yoga, Naturopathy, Siddha, Homeopathy fields including interdisciplinary health sciences. The journal is published by Medknow, which is a part of Wolters Kluwer Health, one of the largest open access publishers worldwide with more than 450+ medical journals in its portfolio.