"The COVID-19 pandemic has demonstrated the importance of global collaboration in vaccine research and development. As we continue to navigate this once-in-a-century public health crisis, we realize the importance of research to accelerate vaccine development, particularly for emerging pathogens." This was stated by Dr. Mansukh Mandaviya, Union Minister for Chemicals & Fertilizers and Health & Family Welfare as he addressed the Global Vaccine Research Collaborative discussion on "Vaccine Research and Development: Building Consensus for Future Health Emergencies Prevention, Preparedness, and Response' a co-branded event under India's G20 Presidency organized by Dept. of Pharmaceuticals, Govt of India on the sidelines of the 3rd G20 Health Working Group Meeting, in Hyderabad today.
Speaking on the occasion, Dr Mandaviya said that the Global Vaccine Research Collaborative could be a much-needed mechanism to advance vaccine R&D for emerging pathogens. "As we embark on this critical mission, we must leverage the collective expertise of our global health community and strengthen our pandemic preparedness efforts", he said. He further stated that "International cooperation is essential to advance vaccine development for emerging pathogens, and the G20 can serve as a vital platform to facilitate collaboration between governments, research organizations, pharmaceutical companies, and other stakeholders."
Highlighting India's leadership in vaccine R&D for several decades, with experience in developing, producing, and distributing vaccines for diseases such as polio, small pox, and measles, the Union Minister said that India, as a leading player in vaccine production and distribution, can play a critical role in building greater global collaboration towards this goal. "The development and deployment of effective vaccines can help to mitigate the impact of pandemics, and we must prioritize research efforts to achieve this objective", he said.
Elaborating on India's initiatives to boost vaccine production and distribution, the Union Minister stated that "the government has provided financial incentives and streamlined regulatory processes to encourage vaccine manufacturers to increase their production capacity. It has also taken steps to ensure the availability of vaccines in rural areas by leveraging the existing infrastructure of primary health centers and other healthcare facilities".
Reiterating India's commitment to advancing health priorities, including pandemic preparedness, access to medicines and vaccines, and universal health coverage, Dr Mandaviya said that "we must leverage India's experience in these fields and accelerate vaccine development, especially for emerging and pandemic-potential pathogens" He further added that "India's leadership in the production and distribution of COVID-19 vaccines is a testament to our commitment to global health security." "We recognize that vaccine equity is essential, and we are committed to ensuring that everyone, regardless of their income or nationality, has access to life-saving vaccines", he further added.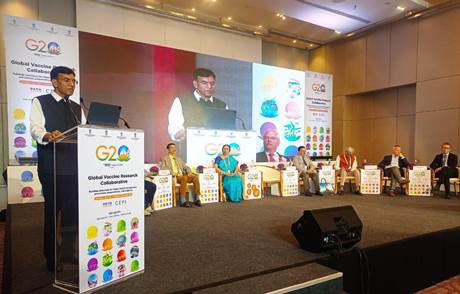 Union Health Secretary, Shri Rajesh Bhushan stated that creating a global vaccine collaborative has to be seen in the context of pandemic prevention, preparedness, response as well as the potential emergence of a harmonized medical countermeasure platform. Highlighting that India has traditionally been a world leader in generics and biosimilars and major Indian vaccine manufacturers contribute more than 50% of the global vaccine supply, he stated that the COVID-19 pandemic underlined the need for reducing the timeline of vaccine manufacturing from decades to less than a year. "The need is for institutionalizing the learnings gained during the pandemic into a system which will straddle countries, span across continents and which will ensure that learnings of the pandemic are made available to all in an equitable manner", he added.
Accentuating the need for the Global Vaccine Research Collaborative, Smt. S Aparna, Secretary, Dept. of Pharmaceuticals stated that the COVID-19 pandemic highlighted that vaccine inequity takes the form of an acute shape with some countries receiving COVID vaccines after 18 months of being introduced in the world. She stated that "the idea behind the Global Vaccine Research Collaborative is to address this gap and enable equitable access to vaccines at the global stage". "It will also help in optimizing valuable resources and avoid duplication", she further stated.
Shri Jayesh Ranjan, Principal Secretary, Govt of Telangana highlighted that 9 billion vaccine doses are produced in Hyderabad every year which is equivalent to one-third of total vaccines produced every year. He stated that India's first indigenous COVID-19 vaccine, COVAXIN was entirely researched and produced in Hyderabad while other world-renowned vaccines like Sputnik also have a part of its R&D done in Hyderabad. Highlighting these achievements, he invited global vaccine manufacturers to collaborate with domestic firms and set up R&D and production centres in the city.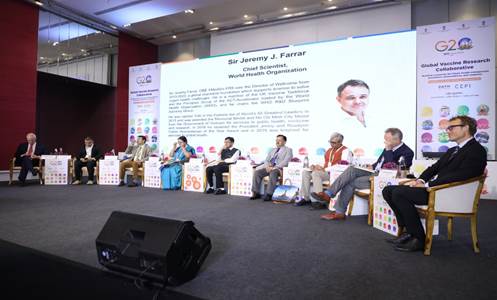 Background:
The Department of Pharmaceuticals is working with Program for Appropriate Technology in Health (PATH) and Coalition for Epidemic Preparedness Innovations (CEPI) to convene and build consensus among various stakeholders from G20 Member States as well as the special invitee countries for a proposed Global Vaccine Research Collaborative. This initiative will focus on addressing major gaps in research for vaccine development before the next pandemic, establishing a structure and principles for better vaccine R&D preparedness and creating a mechanism for improving coordination and fostering an enabling environment for vaccine R&D.
This event set the tone for the discussions leading up to the 3rd G20 Health Working Group meeting, which will begin tomorrow onwards. The recommendations and principles arrived at the discussions today will be carried forward and inform further discussions at the Health Working Group meetings.
Dr Rajiv Bahl, Secretary, Dept. of Health Research; Sir Jeremy J Farrar, Chief Scientist, WHO; Dr Soumya Swaminathan, Former Chief Scientist, WHO; Mr Nikolai Gilbert, President and CEO, PATH; Dr Richard Hatchett, CEO, CEPI; Shri N Yuvaraj, Joint Secretary, Union Health Ministry; representatives from the G20 member countries, special invitee countries, international organizations, forums and partners like WHO, World Bank, USAID, WEF etc., and senior officers of the Union Government were present.