Union Minister for Ayush Shri Sarbananda Sonowal today inaugurated the 26th Convocation of Rashtriya Ayurveda Vidyapeeth (RAV) and 28th National Seminar on topic Usage of Trina Dhanya (Millets) in contemporary lifestyle at New Delhi. Minister advocated young Vaidyas to prepare themselves to bring the traditional medicine and knowledge on the world map and take India to a new height and help the mankind.
Minister of Ayush was accompanied by Chief Minister of Goa, Dr. Pramod Sawant, Minister of State for Ayush, Dr. Munjpara Mahendrabhai, Vaidya Devinder Triguna, President (Governing body), RAV, Vaidya Rajesh Kotecha, secretary, MoA, Shri P. K Pathak, Special Secretary, MoA, Dr. Tanuja Nesari, Director, AIIA, New Delhi, Vaidya Manoj Nesari, Adviser (Ay), MoA, RAV Director Vaidya Kousthubha Upadhyaya and other dignitaries.
Shri Sarbananda Sonowal talked about how our Prime Minister Shri Narendra Modi dedicatedly worked in putting India as a global leader in Ayurveda. He further said, "It is efforts of our Prime Minister Shri Narender Modi ji that WHO established Global Centre of Traditional Medicine in India. India is now in the position to provide leadership globally in holistic health as Ayush sector has resource, opportunities and potential to do so. He urged graduating students to work with same dedication and take India to heights."
The convocation address was delivered by Dr. Pramod Sawant, Chief Minister, Goa and he said, "RAV was conceived with an idea to promote and protect the traditional heritage of knowledge of India. I congratulate all who are graduating today and hope all of you will become volunteers to take Ayurveda to every nook and corner of the world and make our country the Vishwaguru."
He further appealed to all the well-established practitioners and Gurus of Ayurveda to document and publish maximum number of case reports based on their practices.
MoS for Ayush Dr. Mahendrabhai Munjapara while addressing the gathering said, "The graduating students should involve themselves in new innovations in the Ayurveda sector. He urged that those in the practice domain should voluntarily come into the teaching line as a great number of students pass out from Ayurvedic colleges every year."
Speaking on the occasion secretary Ayush Vaidya Rajesh Kotecha said, "RAV had carried out several projects which were never done in the past. RAV has done a lot of unique things over the years. It was the nodal agency to implement telemedicine during COVID-19 period. Their efforts helped integrate the solution of the Ministry of Ayush with the e-Sanjeevani app. I urge renowned practitioners and Gurus to document and publish findings based on practices as much as possible."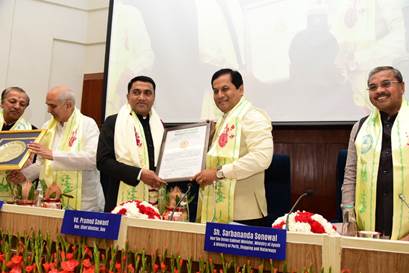 During the event Dr. Pramod Sawant was given fellowship of RAV and felicitated by Minister of Ayush. Other renowned Vaidyas from different parts of the country were given fellowship. A MoU was signed between RAV and Amrita school of Ayurveda, Kollam, Kerala. This MoU is aimed to develop an interactive multimedia supported web platform documenting 100 clinical cases from across the country.
Along with the convocation two day 18th National seminar on topic Usage of Trina Dhanya (Millets) is also going on where scholars and experts from various part of country are participating.