The Union Minister of Ports, Shipping & Waterways and Ayush, Shri Sarbananda Sonowal hosted an interactive session with the women street vendors of Assam in Guwahati today. More than 75 women vendors, from tea stall owners to Ladoo & Pitha makers to Pan shop owners, had a fruitful interaction with Shri Sonowal and shared their experience and benefits derived out of the loan availed under the PM SVANidhi scheme.
Speaking with the vendors, He said, "It gives me immense pleasure to interact with you all today, who has availed loans under the PM SVANidhi scheme to establish and consolidate your business. Our dynamic Prime Minister Shri Narendra Modi ji is very keen to understand the ground impact of all the schemes that the government has been rolling out. This scheme, which is aimed at rejuvenating the street size businesses, has been helpful to people to re-establish their business post pandemic years. It has also helped them expand the scope of their business and contribute meaningfully to realise the ultimate goal for all of us, to make India become Atmanirbhar by 2047 – a vision of the prime Minister, Shri Narendra Modiji. With Jan Bhagidari as the motto, we must strive towards the best during this Amrit Kaal to realise this beautiful vision of Modi ji for
our country. Given your encouraging response to this scheme, I am confident that we are going in the right direction under Modi ji's visionary leadership. I am also happy to know that the vendors of Assam have achieved a rate of 84% for repaying the loan. This will not only pave the way for business opportunities to grow and prosper but also create a positive culture of financial discipline."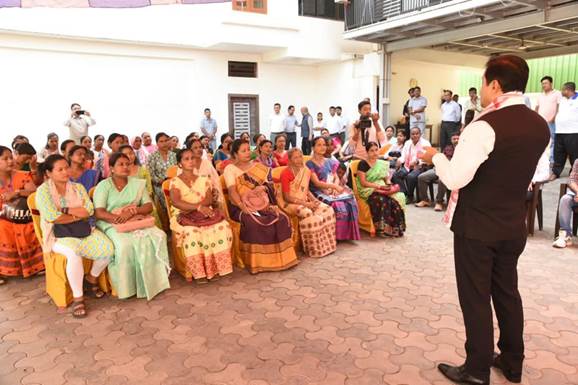 The PM Street Vendor's Atma Nirbhar Nidhi (PM SVANidhi) is a special micro credit facility for street vendors launched by the prime Minister Narendra Modi to provide affordable loan to street vendors, with an aim to benefit over 50 lakh street vendors. With an working capital of up to Rs.10,000/- to resume work post COVID lockdown, the scheme provides incentives to vendors with timely repayment by providing 7% interest rate subsidy, eligibility for higher loan in next cycle, incentivising digital transactions with cash back (up to Rs. 1200 cash for conducting digital transactions in a year), provision for free QR code and handholding at the vending stall, wider base for lending institutions including Commercial banks, other banks, MFIs, NBFCs, and SHG Banks.